Russia to train Iranian cosmonauts, build recon sats – report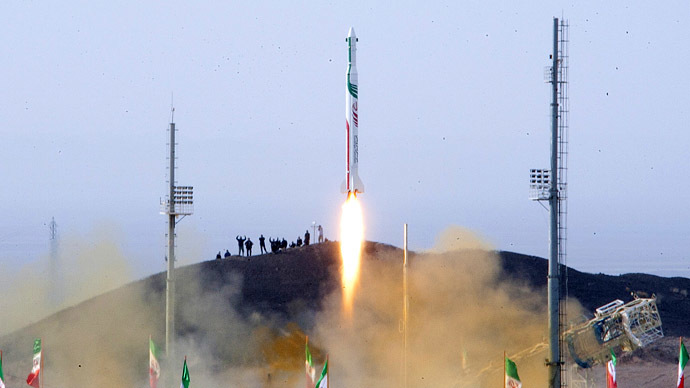 ​Russia and Iran have reportedly signed a secret deal on wide cooperation in space exploration, ranging from training Iranian cosmonauts in Russia to possible production of Earth observation and telecommunication satellites for Iran.
The alleged deal was boosted by the West's sanctions targeting Russia in retaliation for its position on the Ukrainian crisis, Russian newspaper Izvestia reported.

"A protocol on cooperation was signed on April 10 in Tehran after the fifth session of a Russian-Iranian work group on space cooperation," the newspaper cites a source in Roscosmos, Russia's national space agency.

The satellite part of the agreement is of greatest interest for Tehran. Russia pledged to provide sample images of earth gathered by its Resurs-DK and Resurs-P satellites, which allow taking photos with resolution up to 70 cm per pixel, Izvestia said citing the text of the protocol it obtained.

Iranians plan to build domestic communication stations capable of receiving information from the Russian constellation of satellites.

"Russia has assured the Iranian side that there is no insurmountable obstacle to the delivery of receiver stations to get satellite information from the Russian earth observation satellites to communication centers located in foreign nations," the protocol reportedly says.

Moscow may further create and launch reconnaissance satellites under a contract with Iran. Another contract may be negotiated with Iran for a telecommunication satellite, which would be launched to a Geo-synchronous orbit by Russia.

Finally, Russia may provide its facilities and expertise to help Iran with its manned space exploration program.

"The Iranian side is preparing a request for training of cosmonauts, to which the Russian side will respond with an offer in a matter of a month," the document reportedly says.

Ironically, if Russia does train Iranians to go to space, it would be done at the same site where NASA astronauts are trained before taking a trip to the International Space Station in a Russian Soyuz spacecraft, the newspaper notes. Putting Iranians and Americans with access to sensitive information in the same room could be a security challenge.

The space deal comes just as the US decided to downgrade its relations with Russia in all spheres, including space exploration as part of its wider sanction effort. For instance, now Russian space companies cannot buy American electronic components, which were previously used in some Russian satellites.

Iran getting access to earth observation satellites, which have both civilian and military applications, is bound to be opposed by Israel and Saudi Arabia, both regional opponents of Iran and close allies of the US.

The prospect of Russian-Iranian space cooperation may be used by Moscow as a bargaining chip in negotiations with the US, believes space expert Ivan Moiseev.

"In early 1990s we agreed not to sell to India rocket technologies. We made an engine for them instead, trained their specialists. The Americans in return allowed their satellites to be launched from our cosmodromes. Soon Proton rockets became one of world's most used vehicles," he told the newspaper.

Dmitry Paison, science director at Skolkovo's space cluster, says the deal as it is does not pose a significant threat to American interests.

"In the protocol signed with the Iranian space agency I don't see any critical technology transfers. High-energy engines could be critical. Or atmosphere re-entry technologies. If those technologies were at the table, cooperation with Iran would be much more provocative," he explained.

Neither Iranian nor Russian space officials would comment on the reported deal.
You can share this story on social media: