​Overall space spending shrinks, while Russia, emerging countries buck trend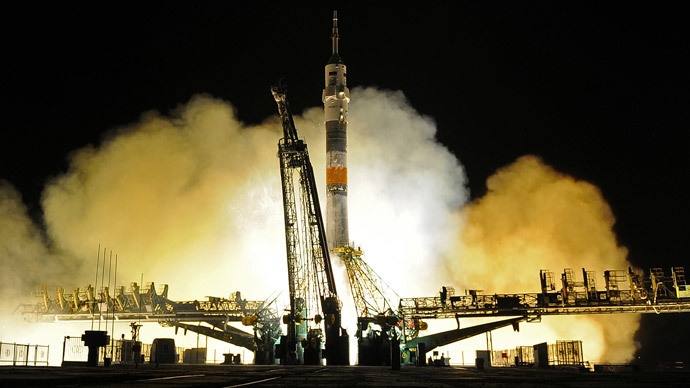 For the first time since 1995 global government spending on space exploration dropped, a new report shows. The drastic cuts for NASA could not be offset even by the increased budgets in Russia and several emerging economies.
World governments spent $72.1 billion on space programs in 2013 - $800 million less than in 2012, consultancy Euroconsult said Thursday in its annual report. The report summed up budgets from 58 countries which spent at least $10 million on space programs.
The first decline in global drive for conquering the final frontier is to a great degree due to budgetary cuts in the United States. America's civilian and military space projects received funding of $38.7 billion last year. The peak in US space spending was in 2009, when it invested $47.5 billion in exploration.
Conversely Russia, the only other nation to spend more than $10 billion on space exploration, saw a major boost of its program, which grew by more than 30 percent over the past five years.
Japan, China, France, Germany, Italy and India all spent over $1 billion and so did the European Union, the report said. While currently ranked 8th in terms of space budget, China spends just a fraction of its GDP and has much room for investment growth in the future.
The annual 'Profiles of Government Space Programs' report has been published since 1994. The consultancy keeps track of over 80 active space programs around the world, including civilian and defense programs of sovereign nations and various organizations.
Having an independent space program is a matter of national pride for Beijing, which recently stressed its aspiration to become a global power by becoming the third nation to send a robotic rover to the moon. The rover, Jade Rabbit, has successfully survived a two-week lunar night and recovered from hibernation, despite initial fears to the contrary. In 2013, China sent three of its own space explorers to dock with an orbital laboratory, another step in its developing a manned program.
Nineteen countries passed the $100 million benchmark in 2013 space spending, including such rising regional powers as Iran, Turkey, the UAE and Brazil. Thirteen other countries made it pass the lower $10 million threshold to be included in the report. Of those, only 10 were on the list in 2003.
"The current global context for public space programs shows many positive signs brought by new leading space nations and an ever-growing number of countries who have initiated plans to build up their space-based capabilities," said Steve Bochinger, chief operating officer at Euroconsult.
"Interestingly, we see a period of transition in many national programs which is reflected in their investment profile. This is also true in emerging countries that have been a key market driver for the space industry. After first- or second-generation launches, these emerging space nations now need to decide on stable, longer-term spending. Similarly, there is a new 'third wave' of potential space nations, but commitments seem slower to materialize," he added.
You can share this story on social media: