Ukrainian parliament votes against autonomy referendum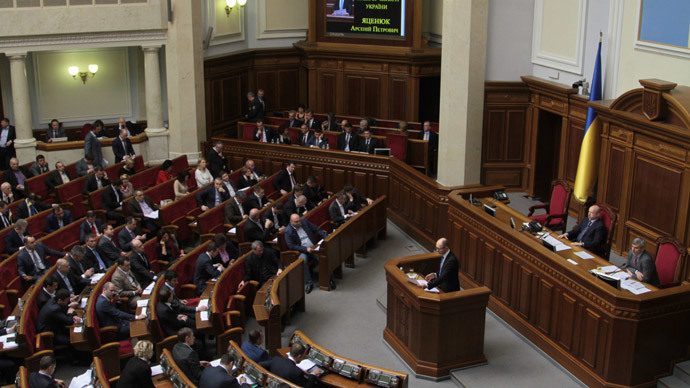 The Ukrainian parliament has voted against holding an all-nation referendum which would pave way to giving more autonomy to the regions – one of key demands issued by protesters in the country's south-east.
The poll was supposed to take place together with the presidential election on May 25. But Tuesday session in Ukraine's parliament, Verkhovna Rada, saw the initiative gather only 154 out of the required 226 votes.

According to the Batkivshina (Fatherland) deputy, Andrey Senchenko, the plebiscite was turned down due to security concerns.

"We are currently unable to ensure the safety of either members of the election commission, or the voters. And, accordingly, it is impossible to ensure the normal procedures and announcement of the actual result," Senchenko is cited by Channel One.

The decision by the parliament means Ukrainians won't be given a chance to express their views on two of their country's most pressing issues, which are the decentralization of power in Ukraine and the status of the Russian language.

However, a contributing factor into the vote results was the banishing of the opposition Communist Party.

The Communists were asked to leave for their stance on Kiev's so-called "anti-terrorist operation" in the south-east of Ukraine, which they labeled as "mass killing" of civilians.

Presidential candidate and leader of the Radical Party, Oleg Lyashko, has called the banishment of the Communist party a "historic event."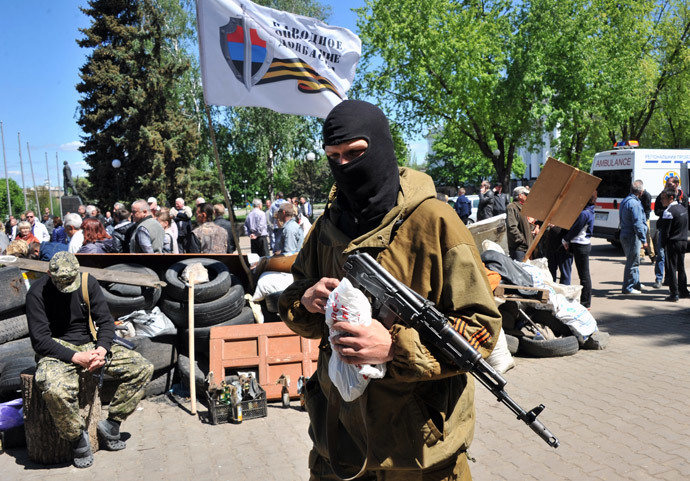 "At my suggestion, the Verkhovna Rada voted for the removal of the Communist fraction from the session hall… I hope that very soon we'll totally ban this treacherous party,"
Lyashko wrote on his Facebook page.
Previously, the head of the People's Republic of Donetsk, Denis Pushilin, said that no matter what the parliament rules, the referendum in the Donetsk Region will be staged as planned May 11.
According to Pushilin, there'll be just one question the Donetsk voters will be asked to answer on Sunday:
"Do you support the act on the independent statehood of the Republic of Donetsk?" Possible answers are 'Yes' and 'No'.
"We expect a turnout of at least 60 per cent,"
he told Itar-Tass news agency, adding that "figures are more than optimistic" the population will support sovereignty.
The Lugansk Region, which is also in revolt against the coup-imposed government in Kiev, will hold a referendum in May, Pushilin said.
Many of the Russian speaking population of Ukraine's south-east refused to recognize the country's new authority, which took the reins in February via an armed coup powered by far-right radicals.
The region has been engulfed in turmoil during the last months, with the anti-Kiev activists seizing administrative buildings and demanding referendum on greater autonomy.

The protesters refuse to stand down, despite Kiev launching a military operation against them, which already has resulted in dozens killed.