This is just a test: Philippines, US kick off major war games in Pacific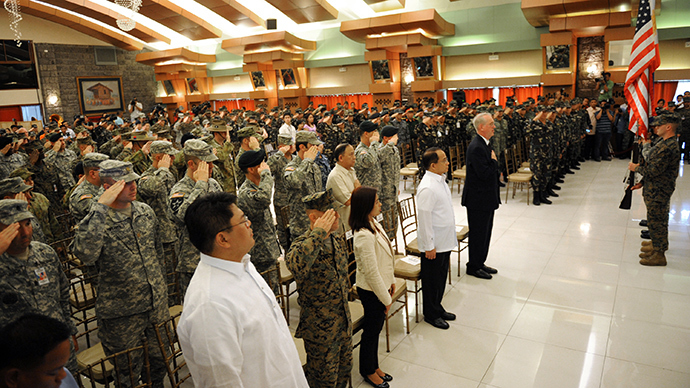 More than 5,000 US and Filipino soldiers have begun war games in the region at a time of increased tension – especially from the regional power, China - over America's growing military footprint in the Pacific.
The two-week naval exercises, dubbed "Balikatan" (shoulder-to-shoulder), are ostensibly designed to help the two allies respond to emergencies, including piracy and natural disasters.
Nearly 5,500 American and Filipino service personnel will participate in the naval games, which will involve the participation of US F-18 fighter jets and soldiers involved in live ammo exercises, on the main island of Luzon.
The maneuvers, held on the edge of the South China Sea, come just one week after Manila and Washington hammered out the details of a new security agreement, the Enhanced Defense Cooperation Agreement, which gives the US Navy broader access to local ports and military bases.
Given the current realities in the region, no military maneuvers can occur without some level of suspicion from neighboring powers.
Philippine Foreign Secretary Albert del Rosario made a veiled reference to China, with whom Manila has had territorial conflicts, when he said the exercises would help counter "excessive and expansive maritime and territorial claims."
"The aggressive patterns of behavior, aimed at changing the status quo, threaten peace and stability in the region. Balikatan 2014 with its focus on maritime security strongly supports our capabilities to address these challenges."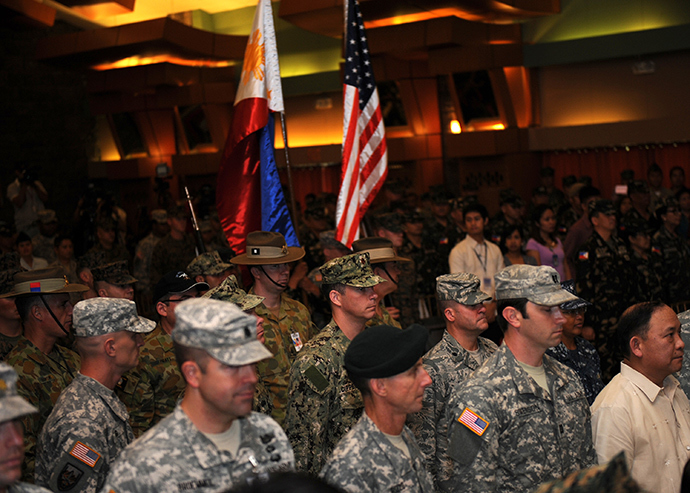 Del Rosario then commented on the dozens of protesters who gathered in central Manila to speak out against the heightened American presence in the Philippines, which many believe is leading to tense relations with China.
"It is silly that China is even being mentioned since the US has expressed its non-committal (sic) to defend the Philippines in the event of an armed confrontation with China," said Renato Reyes, Bayan (Nation) secretary-general.
China and the Philippines have exchanged threats over ownership rights to the Spratly Islands, an archipelago in the South China Sea, which is believed to contain a vast quantity of oil and natural gas reserves. The islands, which spread over more than 425,000 square kilometers (164,000 square miles) of water, are also claimed by Brunei, Malaysia, Taiwan and Vietnam.
Asked about the joint exercises in its geopolitical backyard, Chinese Foreign Ministry spokeswoman Hua Chunying said all sides needed to work "constructively" to maintain peace and stability in the Asia Pacific region.
"We hope that the relevant US-Philippines drills can work in this direction," she told a daily news briefing.
The annual naval maneuvers between American and Filipino troops date back to the 1951 Mutual Defense Treaty, a leftover military collaboration along the lines of NATO, assembled during the height of the Cold War.
You can share this story on social media: