Belgian police use water cannon to disperse 'anti-Semitic hate fest' (VIDEO)
Brussels police used water cannon to disperse a hundreds-strong crowd gathered in defiance of a ban on nationalist gatherings, an event organized in part by the far-right group, 'Rise up, Belgians!'
The authorities acted quickly to break up the 500-person gathering, which included controversial French comedian Dieudonne, and which critics saw as an "anti-Semitic hate fest." Although no arrests were made, the line of police watching the crowd decided after a standoff lasting several hours to move in, Reuters says.
The order to ban the Sunday event, also organized by the First European Dissidents' Congress, was given by the mayor of the suburban area of Anderlecht, Eric Thomas, in advance, as there was a notable risk to public order. Both the event and any others associated with it were also banned.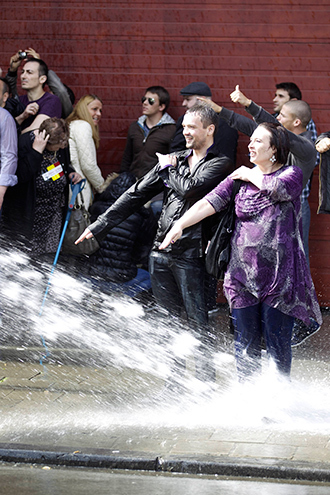 The group did not put up much resistance. As Laurent Louis, a 34-year-old lawmaker and founder of 'Rise up, Belgians!', told supporters that it was "over" and to "disperse calmly," he also added that "they're coming down on us, I don't want any injured."
Meanwhile, another 40 supporters of the cause were at Belgium's highest administrative court to protest the fast-track ruling against gatherings of this sort. The court did not immediately rule.
However, Louis, an independent member of the French Parliament, was unhappy with the dispersal, seeing it as "a total demonstration of anti-democracy… We are in the Soviet Republic of Belgium! All our rights are flouted," he told supporters afterwards.
Louis had also kept the details of the meeting secret, in order to prevent it from being shut down.
The event itself, visited by guests from several neighboring countries, was meant as an opportunity for prominent far-right figures to exchange ideas, including the French comedian, whose string of accusations include anti-Semitism and inciting racial hatred. He has already had shows banned by local authorities in native France. Additionally, Dieudonne is seen as a proponent of the 'quenelle,' a salute which is thought to carry anti-Semitic overtones for looking like an inverted version of the traditional Nazi salute. The actual movement, however, defends it as a simple anti-establishment pose – and Dieudonne himself has denied all accusations of anti-Semitism.
The Belgian League against Anti-Semitism, who had filed an advanced formal complaint on Friday, described the event as a "real day of hatred which would be a framework for the worst gathering of anti-Semitic authors, theoreticians and propagandists in our country since World War Two."
Another group, the Simon Wiesenthal Centre, had also joined calls to ban the gathering, its director for international relations, Shimon Samuels, telling AFP that "the fact that this hate fest is to be held in Brussels, the capital of Europe, the seat of its Parliament… is a threat to democracy reminiscent of the 1920s Weimar Republic, which brought Europe to the Nazi abyss."