Ukrainian military storm Kramatorsk, 1 dead, 9 injured
The Ukrainian army's assault on Kramatorsk has finished, witnesses say, adding that the military did not enter the town. Preliminary reports say that one self-defense activist was killed and nine were injured.
It is unclear whether there are any casualties on the army's side.
Meanwhile coup-appointed interior minister Arsen Avakov has said on his Facebook page that Kiev is not planning to stop the special military operation in Kramatorsk, adding that the military assault will continue at sunrise. He added that the military took control of a TV tower in Kramatorsk overnight.
"The military attacked the barricade on the road to Yasnogorka (town adjacent to Kramatorsk)," an eye-witness in Kramatorsk told RT when the assault started late on Friday. "The lights have been turned off on the nearby street. Shots are being heard across the city, signal rockets light up the sky from time to time. People are saying the Ukrainian army is shooting at everything that moves right now."
Medics told RIA Novosti that 10 people sustained wounds, one of whom died in hospital. At least one of the injured is a woman. It was earlier reported that dozens had been killed or injured.
Meanwhile, the army has resumed its special operation in Slavyansk on Friday evening. The headquarters of the people's self-defense is under snipers' fire, according to Itar-Tass. There are reports of injuries among protesters.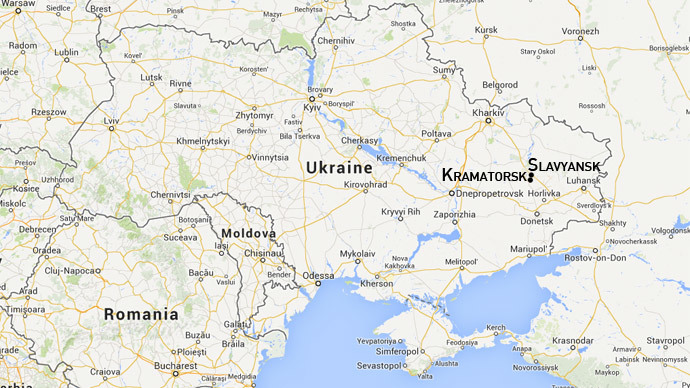 The Ukrainian Defense Ministry said that two military personnel were killed on Friday in the village of Andreyevka, not far from Slavyansk, Donetsk region. According to the ministry, they came under an attack with the use of small arms.
"The violent military confrontation is ongoing. To date, information about the deaths of two Ukrainian servicemen has been confirmed," the ministry said in a statement, as quoted by Interfax-Ukraine.
Kiev has intensified its military operation in eastern Ukraine, with the army surrounding the anti-government stronghold of Slavyansk, blockading civilians inside with military helicopters and APCs on Friday morning. Two pilots have died, and self-defense forces in Slavyansk said that one of their members was killed.
Meanwhile at least 31 anti-government activists have died in a fire at Odessa's Trade Unions House. Some burned to death, while others suffocated or jumped out of windows, the Ukrainian Interior Ministry reported. The building was set ablaze by pro-Kiev radicals.
A total of 43 people have died in Odessa violence on Friday and 174 others have sustained injuries. Twenty-five of those remain in critical condition, according to Odessa City Council.
You can share this story on social media: