Kerry rebuked EU for inciting Ukraine 'tug of war'– report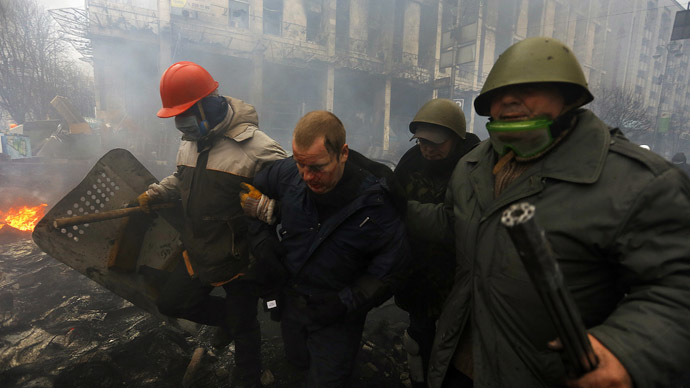 While publicly denying Russia's accusation that the EU forced Ukraine choose between Russia and Europe, in private America's top diplomat reportedly admitted this as fact and that it played a part in escalating the ongoing crisis.
"Some folks in Europe made mistakes, the association agreement became too much of an East-West tug of war. It shouldn't have been," US Secretary of State John Kerry reportedly said at a private meeting of the Trilateral Commission in Washington last Friday. His words were quoted by the Daily Beast on Tuesday.
Russia has long insisted that the EU and the US sparked the political crisis in Ukraine last October. The EU Association Agreement, which President Viktor Yanukovich refused to sign after long deliberation, would require Ukraine to sever or downgrade many of its economic ties with Russia, which would hurt greatly its economy. Yanukovich's decision triggered the protest in Kiev, which eventually escalated into an armed coup that deposed him.
European and American officials rejected Russia's view of the ill-fated agreement, insisting it would not damage Ukraine's trade with Russia. But apparently in private conversation American diplomats don't follow the narrative.
The division between the US and the EU over Ukraine was highlighted earlier in February after a recording of a phone conversation between Deputy Secretary of State Victoria Nuland and American Ambassador to Ukraine Geoffrey Pyatt was leaked.
They were discussing the foreign effort to help anti-Yanukovich opposition create what has now became the new Ukrainian government and expressed frustration at EU's hesitance on the matter, culminated by the infamous "F**k the EU" exclamation from Nuland.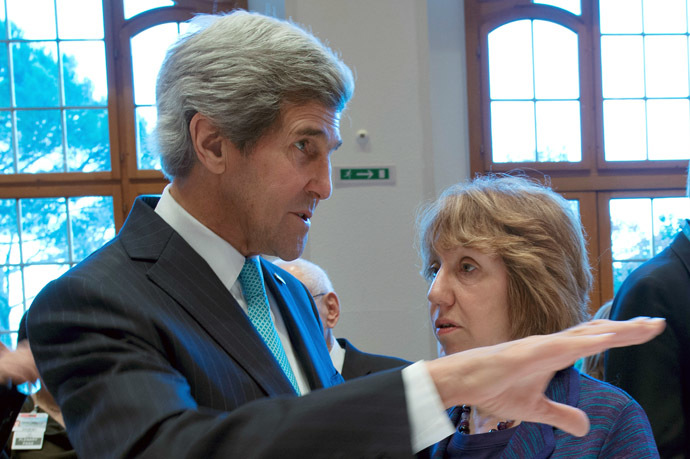 Kerry's private comment on the EU's role in the crisis is just a small part of the Daily Beast report. The majority was focused on the alleged evidence that the US had of Russian agents acting in Ukraine to stir up protest. While the website initially implied that the evidence had been recorded by US intelligence, the State Department later clarified that the reported remarks were related to recordings produced by the Ukrainian government.
Kiev published a six-minute recording, which it said proved the presence of Russian secret agents in Ukraine, two weeks ago. This was one day after a disastrous attack on protester-held Slavyansk, in which then-head of the Anti-Terrorist Center of the Ukrainian Security Service was injured. However, the evidence was far from conclusively damning for Russia.
Another package of evidence Ukraine produced so far, which the US State Department endorsed, proved to be faulty. The alleged photo evidence case quickly collapsed, with the New York Times, which headlined it, having to publish a follow-up admitting its failure to properly verify it.
Following Kerry's previous remarks on the alleged Russian involvement in Ukraine, Russian Foreign Minister Sergey Lavrov challenged his counterpart to produce any real proof.
"Kerry has many times mentioned that Ukrainian intelligence captured Russian agents," he said. "So, show them to the people, have them on TV. Kerry says they don't want to disclose the identities of those people who are engaged in the captures. This is not serious."
You can share this story on social media: