Russia won't repeat 'Crimea scenario' in southeastern Ukraine - Russian Deputy FM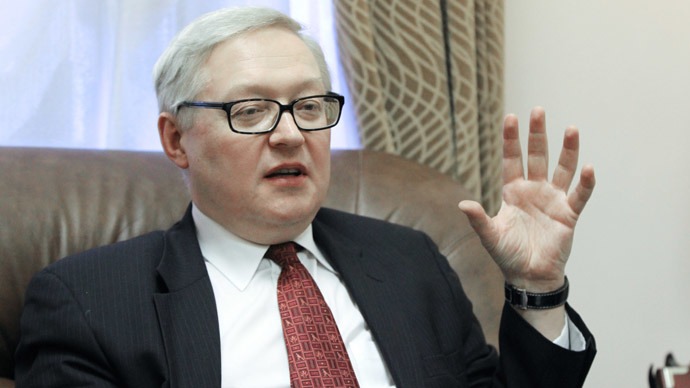 ​Russia is not going to repeat "The Crimean scenario" in southeastern Ukraine, said the country's Deputy Foreign Minister Sergey Ryabkov.
"I think what happened in Crimea turned out to be a big shock for Western partners. They can't tolerate it. And they see the same scenario in southeastern Ukraine," he told Gazeta.ru.
According to Ryabkov, the Kiev authorities should give people from southeastern Ukraine a chance to participate in shaping the future of their own country.
"It's a normal desire [to decide your country's future]. It is the basis of any democratic process," he added.
Ryabkov says he doesn't consider the protesters in Slavyansk and Donetsk, in Donetsk Region, as separatists.
"These are the people who insist on their rights, including the right to their language and access to information," he said.
According to Russian Deputy FM, the Kiev authorities and their "puppeteers in Washington and some European capitals" aren't fulfilling the conditions of the April-17 Geneva agreements.
"They [Kiev and the West] claim that we [Russia] aren't complying with the agreements but they haven't shown any evidence that they are fulfilling them," he said.
He gave a reminder that the main issue surrounding these agreements is the disarmament of the Pravy Sektor (Right Sector) nationalist group and freeing seized streets and squares across Ukraine.
However, Right Sector is still "running the show" in the streets of Ukraine, while Western countries only make claims and criticize anti-government protesters in the south-east, he added.
Meanwhile, Ryabkov compared future sanctions on suspending US exports of high tech products to the Iron Curtain, an ideological conflict and physical boundary separating the Soviet Union from the other countries during the Cold War period.
"This [sanctions] is the revival of the system of 1949 when Western countries in fact drew "the iron curtain" on the import of high-tech products to the Soviet Union and other countries," he said, "Now, in 2014 the US are trying to do the same."
However, despite all the sanctions issued by Western powers, Russia doesn't want to break relations with either the EU, or the US.
"We have a lot of economic ties [with the US and EU]. People are working there," he added.
You can share this story on social media: