Moscow slams Kiev over 'political repressions'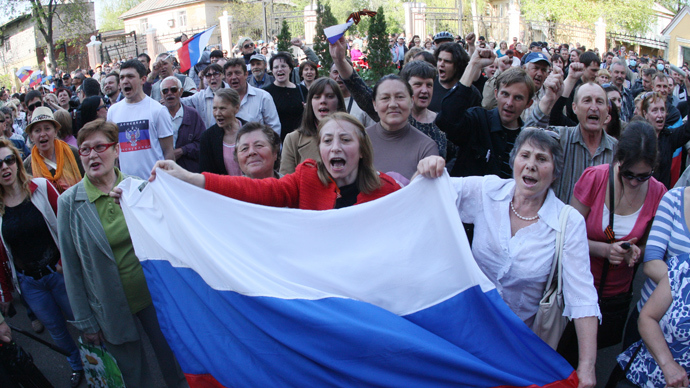 Moscow is "extremely concerned" by the Kiev regime's "political repression and persecution" against those who dare express opposition, the Russian Foreign Ministry said calling for the release all political prisoners.
"Mass media reports give us reason to speak of the start of a 'witch hunt', mass prosecution of dissidents and political repressions and persecutions against those who dare disagree with the Maidan [coup-imposed] authorities," Russia's Foreign Ministry said in a statement.
It particularly recalled the case of recently arrested "people's governor" of Donetsk, Pavel Gubarev.
"We are seriously concerned about the condition of Pavel Gubarev elected 'a people's governor' of Donetsk," the ministry said, adding that he was abducted, charged with organizing mass unrests and attempting to divide Ukraine, and tortured. He went on hunger strike against Kiev's crackdown on protesters in Slavyansk, eastern Ukraine.
According to the Ministry, the Organization for Security and Cooperation in Europe (OSCE) and the Red Cross, managed to get access to Gubarev and visit him in prison on April 26, following "insistent calls" by Russia. The organizations confirmed the abovementioned situation.
"Pavel Gubarev is not the only political prisoner of the Kiev regime," the statement stressed.
Citing local mass media, the Ministry also said that Moscow is seriously worried by reports about the construction of large temporary detention centers for thousands of people in Ukraine, allegedly for illegal migrants.
"There is no such large number of illegal migrants in Ukraine, and buildings that are being erected, according to media reports, are very reminiscent of Nazi concentration camps. The question arises, whether the Kiev regime plans to drive together dissenting citizens there from the South-Eastern regions of the country," the ministry said.
If true, all that "does not accord" with the norms of the OSCE and the European Council as well as obligations to amnesty political prisoners and participants in the protests, which Kiev agreed to during the four-party talks on Ukraine in Geneva on April 17.
"Russia calls for the immediate release of [Donetsk Region people's governor] Pavel Gubarev and other political prisoners of the Kiev regime," the Ministry said.
It has urged the European Council, OSCE and international rights organizations to condemn in the strongest possible terms the violations of human rights in Ukraine and to press for an end to political repressions in the country.
You can share this story on social media: