Russia 'forced' to launch military drills near border in response to Ukraine op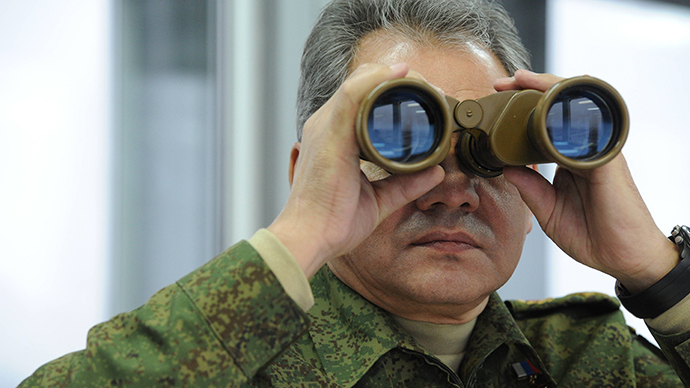 Russia has begun extensive military exercises near the Ukrainian border following the escalation of violence in eastern Ukraine.
"The order to use force against civilians has already been given, and if this military machine is not stopped, the amount of casualties will only grow," Russian Defense Minister Sergey Shoigu said during an official meeting in Moscow.
"War games by NATO in Poland and the Baltic states are also not helping the normalization of the situation. We are forced to react to the situation."
Shoigu said that the drills involve march and deployment maneuvers by forces in the southern and western military districts, and separate Air Force exercises.
Shoigu said that 11,000 Ukrainian soldiers, 160 tanks, 230 armored carriers and at least 150 artillery pieces are involved in the operation against anti-Kiev activists.
"National guard units and Right Sector extremists are fighting against the peaceful population, as well as a volunteer Donbass 'anti-terrorist' unit. Also security and internal forces transferred to Lugansk and Donetsk from other areas of the country are suppressing dissent," he said.
Shoigu added that Ukrainian sabotage units had been deployed near the Russian border.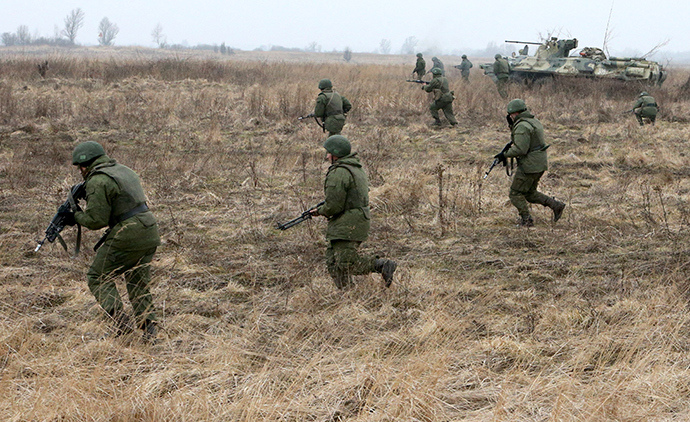 In contrast, he said that the pro-Russian self-defense units number about 2,000 and have about 100 guns between them, which have mostly been taken from local police stations.
"It's not an evenly matched confrontation," Shoigu said.
The coup-imposed Ukrainian acting president, Aleksandr Turchinov, has demanded that Russia pull back its troops back from the Ukrainian border, calling the ongoing Russian military exercises"blackmail."
In a brief address, Turchinov claimed that "terrorists have crossed the border… taking hostages and killing the patriots of Ukraine." He also called for the Russian government "to stop interfering into the internal affairs of our country."
The heaviest fighting on Thursday took place in Slavyansk, with the Ukrainian Interior Ministry reporting the deaths of at least five "terrorists."
NATO has estimated that Russia has massed at least 40,000 troops near its border with Ukraine. Moscow has not denied that it has moved troops to the region, but said that its internal troop movements are its own prerogative.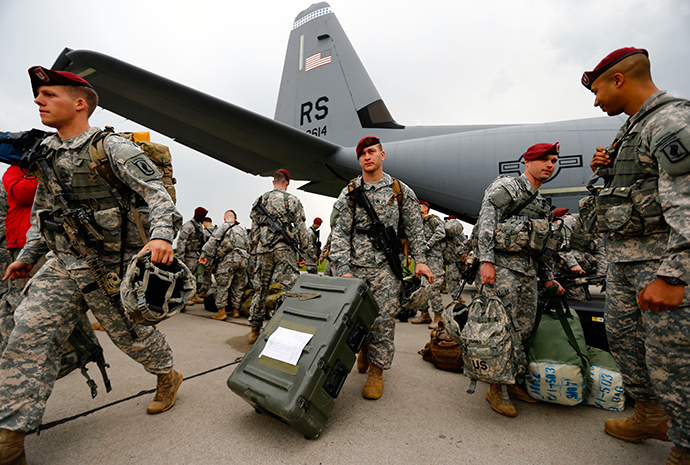 NATO began military exercises in Poland on Wednesday, with more scheduled to take place in the Baltic states next week. So far, 150 US paratroopers have arrived in the country from their stationary base in Italy, with 450 more set to join them.
Poland's foreign minister, Radoslaw Sikorski, has also asked NATO to deploy 10,000 troops in his country.
On Wednesday, the frigate USS Taylor became the latest US ship to enter the Black Sea on a rotating deployment. NATO has dispatched a separate rapid reaction force to the Baltic.
You can share this story on social media: