Gunmen attack self-defense forces in eastern Ukraine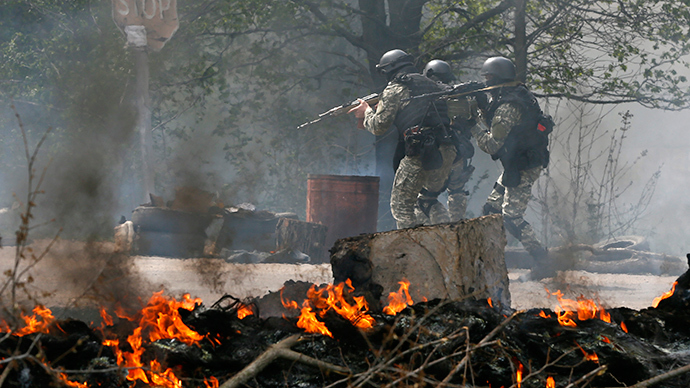 Unknown gunmen have attacked a checkpoint near Slavyansk in eastern Ukraine. Two people were killed, local self-defense forces spokesperson Stella Horosheva told RT.
Follow RT's LIVE UPDATES on military operation in eastern Ukraine
"Unfortunately, the reports of a shooting have been confirmed," Horosheva said. "Every night some sort of an incident takes place at one of our checkpoints. This time suspicious armed people were passing by and the self-defense members approached them to check their IDs. But the gunmen opened fire."

Horosheva said that self-defense forces were investigating the incident, trying to find out who was behind the attack.
Almost simultaneously there appeared reports of unknown gunmen opening fire in the city of Artyomovsk, Donetsk Region.

"Artyomovsk is not calm now, there's shooting. No information yet of casualties or injured," a representative of the self-defense forces told Interfax over the phone.
Ukraine's Interior Ministry, meanwhile, says about a hundred unidentified militants attacked a military unit near Artyomovsk.

"Attackers were shooting with machine-guns, grenade guns and were active in using fragmentation hand grenades," the ministry's statement says, adding that Ukrainian troops managed to repel the attack.
On Wednesday, authorities in Kiev announced they were resuming a military operation against protesters in eastern Ukraine, which they describe as an 'anti-terrorist' initiative.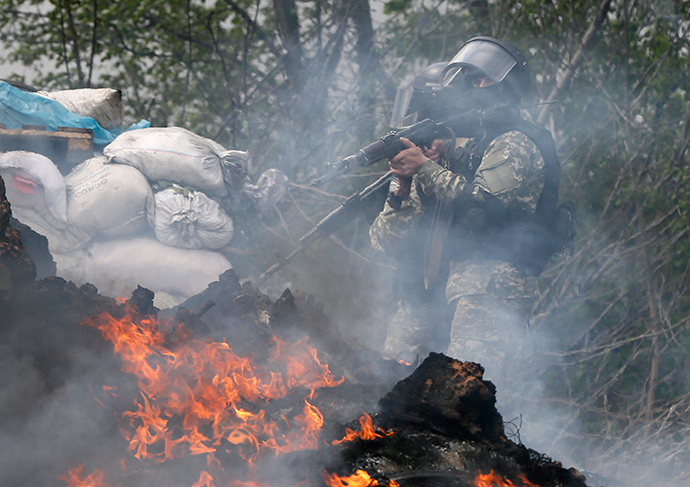 "Law enforcement agencies are working on the eradication of all groups currently active in Kramatorsk, Slavyansk and other cities of the Donetsk and the Lugansk Regions," coup-appointed First Vice-President Vitaly Yarema told journalists.
Protesters have pointed out the move was contrary to the agreement on de-escalation reached in Geneva.
The same day, the Ukrainian radical neo-fascist Right Sector group announced that it is moving its main headquarters from Kiev to Dnepropetrovsk to "closely monitor" developments in the east.

"I moved my headquarters to Dnepropetrovsk. The purpose is to prevent the spread of the Kremlin infection," Ukrainian presidential candidate and Right Sector leader Dmitry Yarosh said.

Yarosh, placed by Russia on an international most wanted terrorist list, also announced that he had begun to establish a special squad of fighters called 'Donbass'.

"We coordinate all of our actions with the leadership of the National Security and Defense Council of Ukraine, the Ministry of Internal Affairs and Security Service of Ukraine," Yarosh said.
You can share this story on social media: