#WeAreAllMonkeys: Neymar, Aguero, Luiz troll racists with 'Alves banana kick'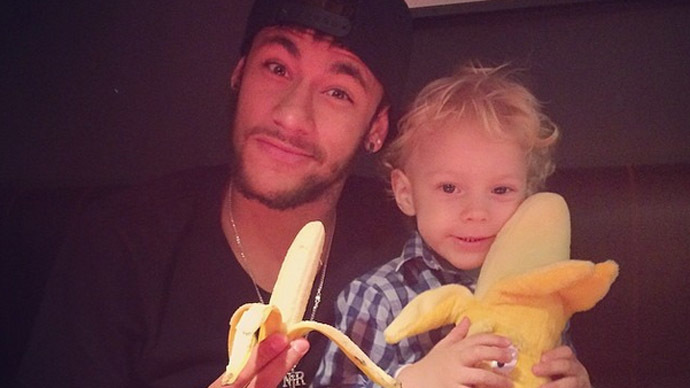 When racist fans tossed a banana at Barcelona player Dani Alves during a recent match against Villarreal, the football star took it all in stride, figuratively taking a bite out of racism and sparking a viral solidarity campaign online.
The incident went down on Sunday just as Alves was readying himself for a corner kick and the flung piece of fruit landed near the Brazilian defender's feet. Alves seem totally nonplussed, peeling and taking a bite out of the banana before tossing it to one side and kicking the ball back into play.
"I don't know who threw the banana, but I want to thank him. It gave me the energy to put two more crosses in for our goals," Alves said after the game.
"We have suffered this in Spain for some time," he continued. "You have to take it with a dose of humor. We aren't going to change things easily. If you don't give it importance, they don't achieve their objective."
Alves had already played a key part in his club's 3-2 comeback when his off-target shot was turned into an own goal by Gabriel Armando in the 65th minute.
Soon after shrugging off the banana taunt, Alves launched a cross that Mateo Musacchio headed past his own keeper before Lionel Messi scored Barcelona's winner.
Alves, who has long been the target of racist barbs, has called football's battle against racism a "lost war" after fans from multiple clubs have mocked him with monkey sounds every time he touched the ball.
Following the latest incident of abuse, Alves' team-mate Neymar posted a picture on his Facebook profile with his son and a banana, as well as a plush toy shaped like the fruit, with the caption "#weareallmonkeys."
The gesture has caused #weareallmonkeys, #somostodosmacacos, and #NoAlRacismo to trend on Twitter, with supporters uniting behind the anti-racism banner.
@BrazilStats On the German Sky Sports News! #somotodosmacacospic.twitter.com/jGkO0K2l4V

— Kevin (@algo_pequenito) April 28, 2014
Spanish tv presenter eats banana in support to Alves: "I'm also a monkey." pic.twitter.com/0gyVPvsUeB via @SocialBarca_10

— RIP Tito (@messileftfoot) April 28, 2014
Great reaction by Dani Alves. Respect! #weareallmonkeys#SayNoToRacismpic.twitter.com/F10iDwVBNY

— Dries Mertens (@dries_mertens14) April 28, 2014
Footballers stand with @DaniAlvesD2, take to social media with #weareallmonkeyshttp://t.co/EkXCT0Uljgpic.twitter.com/1UTvHUZFHD

— Bleacher Report UK (@br_uk) April 28, 2014
Say no to racism #weareallmonkeyspic.twitter.com/QBtmYd7h6b

— Syarif Assegaf (@AssegafSyarif) April 28, 2014
#somostodosmacacos#weareallmonkeys@barcastuffpic.twitter.com/dsJeuZlDg6

— Øùmà Ïmá MB (@Oumi_MB) April 28, 2014
Con mi colega Marta de Brasil le decimos #NoAlRacismo. Todos somos iguales. pic.twitter.com/tLPLOEM4iQ

— Sergio Aguero (@aguerosergiokun) April 28, 2014
#somostodosmacacos we all are monkeys! Say no to racism pic.twitter.com/wlRyOLfs5E

— RIP Tito (@Vitaprevia) April 28, 2014
@BrazilStats@TeleFootball #somostodosmacacos@mousadembele@SpursOfficialpic.twitter.com/PyK4UdDnXi

— Sumin (@JVSM05) April 28, 2014
#Zenit striker #Hulk and his family support Brazilian national squad teammate Dani Alves. #NoToRacism #NãoAoRacismopic.twitter.com/xduLWFhVmH

— FC Zenit in English (@fczenit_en) April 28, 2014