Greek footballer receives lifetime ban over Nazi salute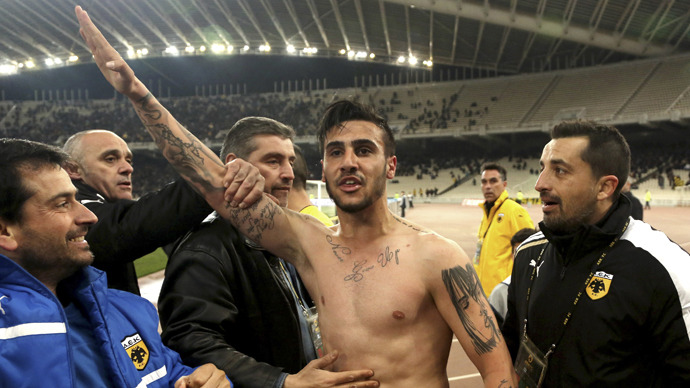 AEK Athens' player Giorgos Katidis has been banned for life from playing for any national teams by Greece's soccer federation. The punishment followed his alleged Nazi salute given to fans to celebrate his winning goal in a domestic game.
The incident took place during a Super League AEK home game against Veria at the Athens Olympic Stadium on Saturday night, which was won by the hosts 2-1. The winner came in the 84th minute.

"The player's action to salute to spectators in a Nazi manner is a severe provocation, insults all the victims of Nazi bestiality and injures the deeply pacifist and human character of the game," the Greek soccer federation's statement said.

The 20-year-old footballer in question denies it was a Nazi salute.

"I am not a fascist and would not have done it if I had known what it meant," the player wrote on his Twitter, adding that he was simply pointing at Michalis Pavlis in the stands to dedicate the goal to his team mate as he continues to fight health problems.

AEK's German coach Ewald Lienen backed Katidis.

"He is a young kid who does not have any political ideas. He most likely saw such a salute on the Internet or somewhere else and did it without knowing what it means," Lienen said, also stressing that the player was crying in the dressing room on seeing the reaction.

Katidis' gesture met heavy criticism from political parties and fans on social media. March 17 marks the 70th anniversary of Greek-Jew deportations to Nazi concentration camps during the Second World War.

The footballer may still be allowed to play for his side. AEK have asked the midfielder to explain his behavior and will then decide his future at a board meeting next week. Katidis signed a four-year contract with the club in August 2012.

This is not the first time a Nazi gesture has landed footballers in trouble. In December 2005, Lazio forward Paolo di Canio was fined €10,000 and sidelined for one domestic game for a Hitler-style salute to his team's fans in a match against Livorno.


You can share this story on social media: