Helicopter explodes at Kramatorsk airfield in eastern Ukraine (VIDEOS)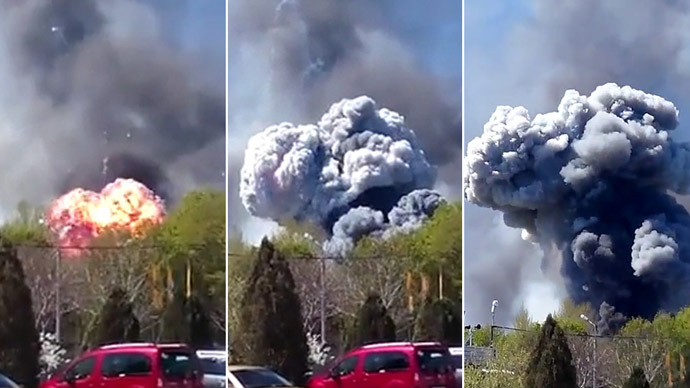 Self-defence troops have confirmed they attacked a Ukrainian military helicopter at an airfield in eastern Ukrainian city of Kramatorsk. A plume of smoke can be seen rising over the area in a number of online videos.
Follow RT's LIVE UPDATES on military operation in eastern Ukraine
"Our people approached the airfield, shot a rocket-propelled grenade (RPG) in the direction of the helicopter. There was an explosion. [Kiev] militants started shooting and we [protesters] retreated," a representative from the Kramatorsk self-defence troops told RIA Novosti.
А video posted online shows a loud explosion at the site where a plume of smoke is seen. The smoke was swiftly followed by another explosion. Witnesses say fire was also seen in the area of the blast.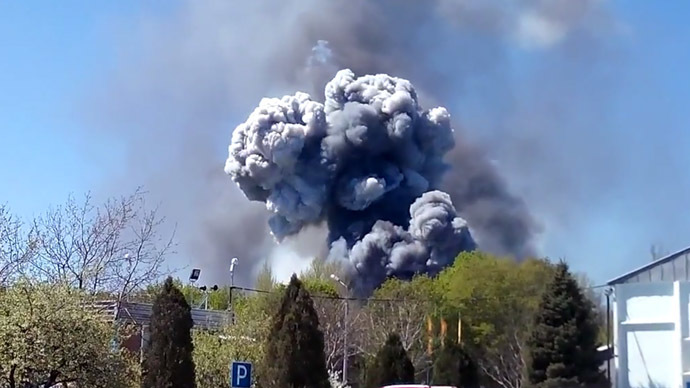 The blowing up of the helicopter has also been confirmed by Ukraine's Security Service, the SBU.
Earlier, reports from Kramatorsk.info, said several explosions took place at about 11am local time (09:00 GMT). The explosions were followed by a fire and smoke, the news portal added.
"An Mi-8 helicopter has exploded at Kramatorsk airfield, with no victims reported. The pilot managed to jump [from the plane]," Dmitry Tyimchyuk, the head of the Center for War-Political Investigations told Kramatorsk.info news. "The preliminary theory is that the helicopter caught fire during a warm-up before a flight."
Earlier, the representatives of the Kramatorsk Interior Ministry said anti-government protesters were behind the explosions. The ministry didn't report any victims.
However, local residents say that at least three people died in the explosions. They say the blast took place when the Ukrainian military was arming the helicopter.
According to SBU General Vasily Krutov, the helicopter was targeted by a sniper, who shot the fuel tank. He added that the pilot was injured in the incident.
You can share this story on social media: