Kiev military op: Ukrainian army tanks, APCs, troops attack Slavyansk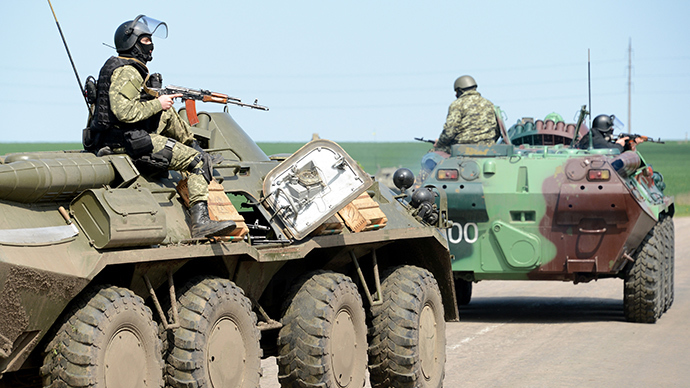 Five anti-government protesters have reportedly been killed and one injured in the eastern Ukrainian town of Slavyansk after Kiev authorities sent tanks and armored vehicles against the local population.
Follow RT's LIVE UPDATES on military operation in eastern Ukraine
"During the antiterrorist operation, three checkpoints erected by illegal military groups have been destroyed in the northeastern part of Slavyansk," the Ukrainian Interior Ministry said, adding: "At least five terrorists have been killed. One policeman was injured."
Witnesses report on Twitter Slavyansk self-defense forces are now burning tires to hamper the entrance of infantry vehicles from Kiev into the city.
Ukraine army attack have just driven off at high speed pic.twitter.com/pHyPzc4WhQ

— GrahamWPhillips (@GrahamWP_UK) April 24, 2014
According to Rossiya 24 TV channel, self-defense forces have repelled the attack of the Kiev gunmen at the key checkpoint 3 km north of Slavyansk. At least three infantry vehicles had to retreat.
Police has announced the beginning of the crackdown via loudspeakers and a special vehicle is currently patrolling the streets warning local people about the crackdown.
The local citizens in the city are preparing for the Kiev crackdown. The majority of shops, kindergartens and schools have been closed in the city. Only the shops selling bread and water remain open.
Mass shop closures in #Sloviansk and a chilling word from the street here 'the war has started'.

— GrahamWPhillips (@GrahamWP_UK) April 24, 2014
Военные пытаются войти в город #Славянскpic.twitter.com/VDgUd7kELI

— Смирнофф (@smirnof3gs) April 24, 2014
"Fighting the outskirts of Slavyansk started at about 12pm Moscow time (08:00 GMT)," one of the leaders of the self-defense forces, Miroslav Rudenko, told Interfax, "We are checking reports of one dead and one injured. There are shootings at a number of checkpoints at some of Slavyansk exit-roads."
Rudenko said it was impossible to reach self-defense leaders in Slavyansk by phone, suspecting that mobile phone connection could have been switched off.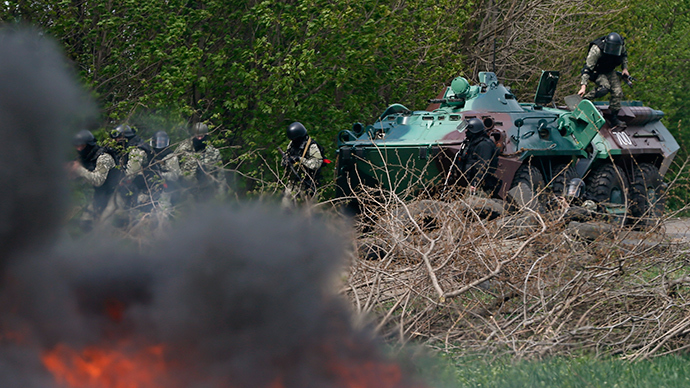 Rossiya 24 TV channel reported there was a slow offensive by Ukrainian troops on Slavyansk.
"Now armored vehicles and special forces are just 10km away from the town," said Rossiya 24 correspondent currently on the ground.
According to locals, at least eight armored infantry vehicles passed the village of Hrestische, near Slavyansk, on Thursday morning, reports Gazeta.ru.
At least three snipers from Ukrainian army are now at the barricades, the residents also told Gazeta.ru, adding that when one of the journalists tried to approach the barricades, the snipers opened fire.
Meanwhile, two columns of armored vehicles are heading towards Slavyansk. The first column is now 6km from the city, while the second is 3 to 4km, Mayor of Slavyansk Vyacheslav Ponomarev told Rossiya 24 TV channel.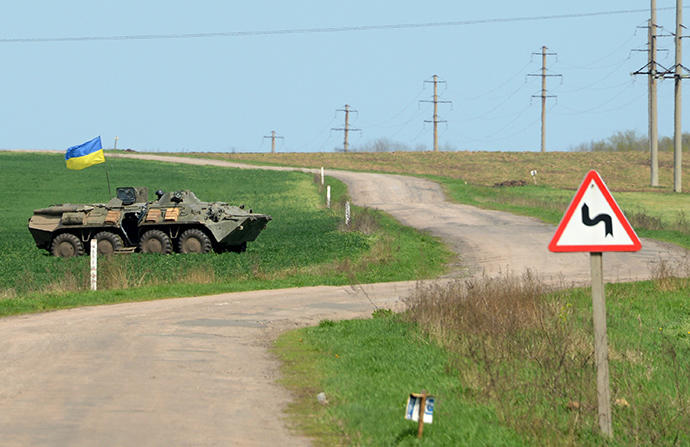 Meanwhile, the armored infantry vehicles are currently heading towards the town of Izyum in the Kharkov Region, not far from Slavyansk.
Anti-government protesters are still controlling the checkpoints on the outskirts of Slavyansk.
Ukrainian military Mil Mi-24 and Mi-8 helicopters have been detected in the city of Artyomovsk near Slavyansk.
Kiev must investigate checkpoint fatal shooting – Amnesty
Ukrainian forces must respect international standards on use of force, Amnesty International said on its website responding to reports of fatal shootings of anti-government activists at several checkpoints in Slavyansk.

"International standards on the use of force and firearms are clear – law enforcement officials should resort to the use of firearms only in defence against an imminent threat of death or serious injury. They should apply other non-violent means before resorting to the use of force, and the use of firearms must always be the last resort. When the use of force and firearms is unavoidable they must exercise restraint and take steps to minimize damage and injury and preserve life," Heather McGill, Ukraine Researcher at Amnesty International, has said.

Amnesty stressed that "an independent, impartial investigation should be launched into the events leading up to today's reported loss of life at checkpoints around Slavyansk," adding that "if it is found the Ukrainian forces violated international standards and resorted to arbitrary or abusive use of force, they must be brought to justice."

Blasting the seizure of public buildings and detaining of foreign journalists by the local "pro-Russian armed group" as "human rights abuse," the Amnesty added that "this must not be met with human rights violations by Ukrainian security forces."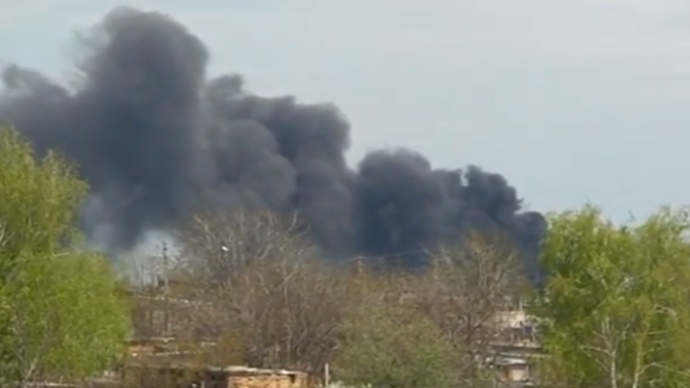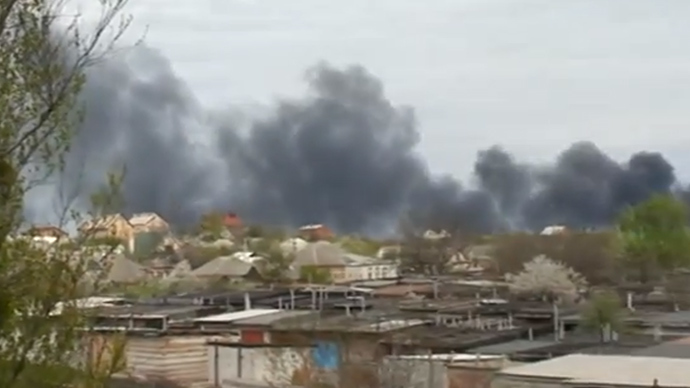 Russian President Vladimir Putin called Kiev's crackdown on anti-government protesters "a very serious crime."
"If the Kiev regime started military actions against the country's population, this is without doubt a very serious crime," Putin said.
He maintains that the current situation in eastern Ukraine is another proof that Russia was right when it supported the Crimeans when they decided to have a referendum.
Meanwhile, Russian OSCE (Organization for Security and Co-operation in Europe) envoy Andrey Kelin proposed sending immediately the observers to Slavyansk, calling the city and near-by regions "hotspots."
He criticized Kiev's 'anti-terrorist' operation, launched against anti-government protesters in the city as "serious violation of the Geneva agreements."
You can share this story on social media: