India receives international help to free dozens trapped in tunnel 
Rescue teams are working to save the 41 workers amid the risk of further collapse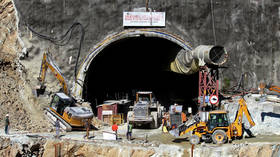 Multiple rescue teams continue working day and night to free 41 workers trapped in a tunnel that is under construction in the northern Indian state of Uttarakhand after a landslide on November 12.
Arnold Dix, the president of the International Tunnelling and Underground Space Association, who arrived at the site in Silkyara, Uttarkashi on Sunday, expressed confidence that the rescuers will be able to reach the trapped workers.
Dix, who specializes in underground and transportation infrastructure and hails from Victoria, Australia, according to his LinkedIn profile, conducted an inspection at the Silkyara tunnel site and spoke to the agencies involved in the rescue operations.
"Look, we going to get those men out. Great work is being done, we're going to find the solution," Dix told ANI news agency on Monday morning. He added that "people from the whole world" are assisting in the mission.
Dix also stressed the need to ensure that "not only the men who are rescued but also the men who are rescuing are safe." He added that plans for rescuing the trapped men are "looking fantastic" and everything is being done in a "very systematic" manner.
#WATCH | Uttarkashi (Uttarakhand) tunnel rescue operation | International Tunneling Expert, Arnold Dix says "We are going to get those men out. Great work is being done here. Our whole team is here and we are going to find a solution and get them out. A lot of work is being done… https://t.co/ta5cXfBRyvpic.twitter.com/Mfwkxu5UbJ

— ANI (@ANI) November 20, 2023
The authorities have sought help from teams from Norway and Thailand, a senior government official told the media. The rescue team has also contacted the Thai company that rescued children trapped in a cave system in Chiang Rai province, Thailand in 2018.
The authorities have drawn up a five-point rescue plan after suffering several setbacks. India's transport and highways secretary, Anurag Jain, said these alternatives would involve drilling from three sides to reach the trapped workers, as quoted by NDTV.
Indian media have reported that rescue efforts were slowed by falling debris, as well as breakdowns of the crucial heavy drilling machines, with the Indian Air Force having to airlift in the new equipment twice.
A portion of a highway tunnel being built to connect Silkyara and Dandalgaon in Uttarakhand collapsed on Sunday. The tunnel is part of the federal government's Char Dham all-weather road project. With an estimated cost of 120 billion Indian rupees ($1.5 billion), it is intended to improve access to popular Hindu shrines, as well as areas bordering China.
Five Indian government agencies have been assigned responsibility to conduct this new leg of the project. Meanwhile, the Border Roads Organization has been building more roads at the site so that equipment can be brought in. Rescue operations initially hit a snag as rocks kept falling from the structure's roof.
The country's prime minister, Narendra Modi, speaking to Uttarakhand Chief Minister Pushkar Singh Dhami on Monday, expressed hope that the trapped workers will be safely evacuated through coordination between the federal government and state agencies. Modi highlighted the need to maintain the morale of the trapped workers, Dhami's office said.
Contact with the workers was initially established through walkie-talkies and they are being provided food, medicine, and other necessary items via steel pipes that have been drilled into the opening of the tunnel.
Indian Transport Minister Nitin Gadkari, who visited the site on Sunday, said that if the drilling machines perform properly, reaching the men will be possible "in the next 2-2.5 days."
Where India Meets Russia – We are now on WhatsApp! ‎Follow and share RT India in English and in Hindi
You can share this story on social media: