Russian bank to launch cross-border rupee transactions
Moscow and New Delhi are shifting away from the US dollar in mutual trade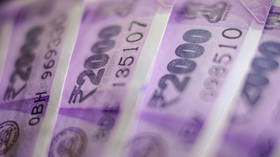 Russia's second-largest bank, VTB, announced on Wednesday that it will launch cross-border transfers in Indian rupees by the end of September, following the lead of top Russian lender Sber.
According to VTB, retail clients will be able to send money to individuals and legal entities in India. Transactions will have a limit of 20 million rubles ($213,000), and there will be a 1% commission on the transfer amount.
Last October, VTB said it had opened a Special Rupee Vostro Account (SRVA) at its Indian branch, to enable the more active use of Indian currency in payments under import and export contracts between the two nations. Meanwhile, Russian banking giant Sber has begun offering its customers SRVA accounts, aiming to facilitate rupee-denominated trade transactions, which are increasing due to Western sanctions.
In June, Sber launched a service that allows clients to transfer rubles to India, and one month later a similar service for rupee transactions became available.
Sber and VTB have both said they are improving their ability to convert rupees into rubles, thus helping exporters receive funds effectively trapped in India due to Western sanctions.
Russian Foreign Minister Sergey Lavrov announced on Sunday that India plans to propose various investment options for the "billions of rupees" that Russia has amassed from its massive oil exports to the South Asian nation.
The equivalent of more than $40 billion in rupees has accumulated in special vostro accounts which Indian banks hold for Russian entities in domestic currency. A vostro account is commonly opened at a domestic bank on behalf of a foreign bank in the former's domestic currency, in this case, the rupee.
In August, Minister of State for Commerce Anupriya Patel told the Indian parliament that the country's central bank had approved 34 applications from Russian banks to open vostro accounts in 14 Indian banks.
You can share this story on social media: