India and Russia to speed up new shipping route
Officials have touted the Eastern Maritime Corridor as an alternative trade route between Vladivostok and Chennai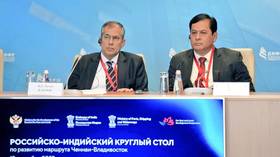 New Delhi and Moscow are stepping up efforts to begin operations along the Eastern Maritime Corridor (EMC), a shipping route which stretches from Vladivostok in Russia's Far East to the southern Indian port of Chennai, officials announced at the Eastern Economic Forum on Tuesday.

Addressing a special session on the topic in Vladivostok, the Indian minister of ports, shipping and waterways, Sarbananda Sonowal, extended an invitation for an Indo-Russian workshop on the EMC to be held in Chennai from October 30 to discuss "the smooth and swift operationalization" of the corridor.

"India remains firmly committed towards making innovative solutions that will enhance and further foster the strong bilateral relationship between our two great nations. As our teams hedged their effort for an early operationalization of EMC, the visit to Vladivostok, Vostochny, Nakhodka and Kozmino was particularly helpful," Sonowal said, according to an official statement.
The Russian government also expressed its desire to send a delegation to Chennai to explore opportunities with their Indian counterparts, the statement said. Shipping officials from the two countries discussed the modernization of port infrastructure and ways of ensuring cargo volumes.

According to Aleksey Chekunkov, head of the Ministry for the Development of the Russian Far East, the EMC can be used to transport coal, oil, liquefied natural gas, fertilizers, containers and other types of cargo, with the possibility of calling at other Russian and international ports. The Indian government noted that an independent study had found coking coal to be the most suitable commodity for trade using the EMC.

The agreement for the development of the Chennai-Vladivostok maritime corridor was signed by the leaders of the two countries in 2019, when Indian Prime Minister Narendra Modi attended the Eastern Economic Forum in Vladivostok. The route operated during Soviet times and connected Russia's Far East with India and Southeast Asia. Ports of call included Nakhodka, Hong Kong, Singapore, Kolkata and Chennai. The average round voyage time was 90 days.

"Strong ties between our countries were built back in the Soviet period and today they are reaching a new qualitative level," Chekunkov emphasized, according to RIA Novosti. He added that Russian trade with India was rapidly growing, and that there was huge potential for further cooperation in numerous sectors, particularly relevant to the Far East.
Indian investors already have experience of implementing projects in the region and have made use of incentives in Russia's priority development areas and the free port of Vladivostok. According to Chekunkov, in previous years, Indian companies focused on energy, diamonds and the tea business, while new projects are currently being discussed in the mining, shipbuilding, gas chemistry, logistics, construction and development sectors, as well as pharmaceuticals.

New Delhi's ambassador to Russia, Pavan Kapoor, urged more active investment in India and called for increased imports from his country to overcome the current trade imbalance. "We appeal to our Russian friends with a request to increase exports from India. And, of course, it is necessary to diversify the basket of goods that the business supplies from India to Russia. Our companies trade in pharmaceutical products, food items, but there is a potential to export cars, including electric cars, [and] textiles," he noted.
You can share this story on social media: