New Delhi and Moscow celebrate 'shared culture' with new exhibition
An exposition devoted to Russian painter and philosopher Nicholas Roerich, famous for his majestic Himalayan landscapes, has opened in the Indian capital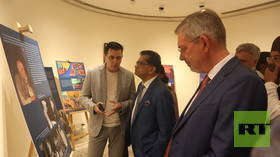 India and Russia have continued to promote their cultural ties following the recent G20 Summit in New Delhi, launching a new project honoring renowned Russian artist Nicholas Roerich.
On Monday, Indian G20 Sherpa Amitabh Kant and Russian Ambassador to India Denis Alipov inaugurated an exhibition titled 'The Roerichs and India: Bonds of Friendship', at the Russian House cultural center in New Delhi. The showcase organized on the occasion of the G20 Summit is dedicated to the legacy of renowned Russian artist and philosopher Roerich and his family, and their "profound admiration" of India's civilizational heritage.
The exhibition underlines the "great unifying and inspiring endeavors" by the Indian presidency of the G20 and both countries' commitment to preserving universal values, according to a statement by the Russian House. The collection on display belongs to the Museum of Oriental Art in Moscow.
"Nicholas Roerich once wrote, where there is culture there is peace. Culture is the accumulation of the highest of bliss, beauty, and knowledge, and the solution to the most difficult social problems. No doubt that in the present reality, the guidance that we draw from his vision acts as a source of creative motivation for dialogue [and] unity," Alipov stated. He emphasized that human values act as "glue" for the "multifaceted and trusted friendship" between Russia and India.
Indian G20 Sherpa Kant revealed that he had made multiple visits to the museum-estate of Roerich in Naggar, in the state of Himachal Pradesh in the Himalayas. Kant noted that Roerich's notion of unity and harmony through art resonates with India's vision, adding that through the Russian artist's paintings, "we forge a bridge of shared art and culture that binds our two nations together."
In a video message broadcast at the event, Russian G20 Sherpa Svetlana Lukash also noted the relevance of Roerich's views and ideas in the contemporary context.
The exhibition displays paintings by Nicholas Roerich and his son Svetoslav Roerich from their time in India, including encounters between Indian prime ministers, politicians, and the Roerich family. Roerich and his family arrived in Darjeeling in December 1923, on a quest to discover the mythical kingdom known as 'Shambhala'. Roerich's travels across the Himalayas a century ago resulted in over 500 paintings depicting tranquil mountain and valley landscapes, monasteries and monks, and the flora and fauna of the modern-day Indian states of Himachal Pradesh, Kashmir, Ladakh, and West Bengal.
The Roerichs ultimately settled in Naggar, in the Kullu district of Himachal Pradesh state. Their two-story house has since been transformed into a museum, housing a remarkable collection of paintings and the Roerichs' cherished souvenirs gathered during their Himalayan odyssey.
You can share this story on social media: