India's Chandrayaan-3 spacecraft enters Moon orbit
The country's third moon mission makes a crucial maneuver after completing two-thirds of its journey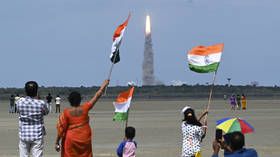 India's third lunar exploration mission, Chandrayaan-3, has been successfully inserted into an orbit around the Moon on Saturday, 22 days after it left Earth, the Indian Space Research Organisation (ISRO) has said.
The spacecraft, which was launched from the Satish Dhawan Space Center in Sriharikota on the country's east coast in mid July, has completed around two-thirds of its journey to the Moon.
The lunar orbit insertion performed by Chandrayaan-3 on Saturday is a critical phase of the mission aimed at sending a spacecraft from its trajectory around the Earth to a trajectory that will allow it to enter the orbit of the Moon.
According to ISRO, the insertion is a meticulously planned maneuver that reduces the speed of the spacecraft, allowing the Moon's gravitational field to pull it into a stable lunar orbit. Chandrayaan-3 entered that lunar sphere of influence on August 1.
Chandrayaan-3 Mission Update:Lunar Orbit Insertion (LOI) maneuver was completed successfully today (August 05, 2023). With this, #Chandrayaan3 has been successfully inserted into a Lunar orbit.The next Lunar bound orbit maneuver is scheduled tomorrow (August 06, 2023), around… pic.twitter.com/IC3MMDQMjU

— LVM3-M4/CHANDRAYAAN-3 MISSION (@chandrayaan_3) August 5, 2023
Now, there are only 17 days left before ISRO makes an attempt to soft-land the mission's lander Vikram near the Moon's south pole. However, the lunar landing depends on several factors, including the Moon's sunrise. If required, ISRO may consider rescheduling the landing for September, even though all the maneuvers of the spacecraft have gone to plan, Indian media has reported.
In the final stage of the mission, once the spacecraft reaches an orbit 100-kilometers above the lunar surface, the lander and the rover Pragyan will be detached and maneuvered to soft-land on the surface of the Moon.
The mission aims to successfully demonstrate a safe and soft landing on the lunar surface, showcase Vikram's mobility on the Moon's terrain and simultaneously conduct scientific experiments on the Earth's only natural satellite.
If the mission is successful, India will have become only the fourth country to have achieved a soft lunar landing, joining the US, the Soviet Union and China. It will also have the unique distinction to be the first nation to land at the lunar south pole.
Earlier in 2019, the Chandrayaan-2 mission deployed an orbiter but its lander and rover were destroyed when it plummeted to the surface, leaving a crater close to where the current mission is intended to land at the lunar south pole.
You can share this story on social media: