India wants strict BRICS entry rules – Bloomberg
New Delhi and Brasilia have urged caution over a potentially rapid expansion of the bloc, the outlet claimed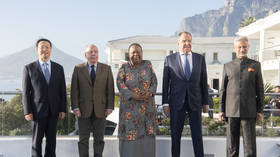 India is insisting on strict rules for the admission of new members into the BRICS group of nations, Bloomberg has reported. According to the outlet, Brazil is also opposed to a bid by China to rapidly expand the group.
Formed in 2009, the BRICS group currently comprises Brazil, Russia, India, China, and South Africa. During preparatory talks for the bloc's next summit of leaders in Johannesburg in August, India and Brazil raised objections regarding the potential accession of Indonesia and Saudi Arabia, Bloomberg reported.
The outlet claimed that New Delhi is insisting that strict rules must be in place on how and when potential members can join. India has proposed that the BRICS nations should seek to invite emerging economies and countries with democratic aspirations such as Argentina and Nigeria, rather than Saudi Arabia, the report said, citing an official.
Brazil has meanwhile proposed its own vision for the expansion of the bloc which involves creating "observer" and "partner country" categories, before promoting applicants as full members, and is likely to support Indonesia to begin the process, according to Bloomberg.
In the run-up to the Johannesburg summit, countries such as Saudi Arabia, Iran, Egypt, Bangladesh, Algeria, Argentina, and Ethiopia have all officially applied for membership, while others, including Indonesia, have been invited to attend various meetings. The bloc was hoping to introduce a framework for admitting new members before the August gathering.
Reports had earlier emerged on India's supposed concerns over BRICS expansion ahead of the leaders' summit. New Delhi publicly commented on its position during the BRICS foreign ministers' meeting in Cape Town last month. "This [BRICS expansion] is still a work in progress. We are approaching this with positive intent with an open mind," India's minister for external affairs, Subrahmanyam Jaishankar, stated at the time.
South Africa, which is the current chair of BRICS, said last week that over 40 nations, including 22 countries that have formally expressed their desire, are keen to join the bloc. In an interview with RT this week prior to the Russia-Africa Summit in St. Petersburg, South African Foreign Minister Naledi Pandor said that BRICS foreign ministers have "done their work" and have decided on a "clear set of guiding principles which we think will assist our leaders as they make a decision."
You can share this story on social media: