Russia and India reviving rupee settlements in trade
The countries are avoiding dollar payments due to risk of secondary sanctions, says the CEO of a state-run lender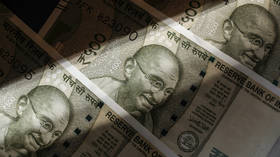 Several weeks after rupee-ruble talks were reportedly suspended over concerns by both Russia and India about secondary sanctions, a new mechanism has emerged to facilitate non-dollar settlements.
The traditional allies are turning to settling outstanding non-oil payments with the excess Indian rupees in Moscow's coffers, according to a top official at India's United Commercial Bank (UCO Bank), a state-run lender. Although this is a new approach, the mechanism had actually been in the works since January.
Such a move augurs well for both India and Russia amid New Delhi's new trade policy that aims to make a dent in the hegemony of the dollar.
Meanwhile, Russian Deputy Prime Minister Denis Manturov, who visited New Delhi last month for trade talks, has been forthcoming about Moscow's eagerness to carry out transactions in "national currencies and currencies of friendly countries [read India and China]" in a bid to reduce its dependence on dollars in light of US-led Western sanctions against Moscow owing to the Ukraine conflict.
The CEO of UCO Bank, Soma Shankara Prasad, said earlier that Gazprombank, a privately owned lender and Russia's third largest bank by assets, was the first Russian banking entity to open a special rupee vostro account (SRVA) with UCO Bank last year.
Since January, as many as 20 transactions in the Indian currency have been carried out, all of which relate to Indian exports to Russia, Prasad said.
"The oil trade could be brought under the rupee mechanism after it is fully established and tested," he added.
Prasad's acknowledgement of the boost to the rupee-ruble trade mechanism comes after the country's central bank, the Reserve Bank of India, allowed Russian banking institutions to open SRVAs. A vostro is an account held by one bank on behalf of another bank.
On February 6, Russian Ambassador to India Denis Alipov had said that Indian banks were cautious about using the rupee-ruble payment system to settle trade with Moscow because of concerns about secondary restrictions from the US.
So far, 20 Russian banks, including Gazprombank, Rosbank, Tinkoff Bank, Centro Credit Bank and Credit Bank of Moscow, have opened SRVAs with authorized dealer banks in India to enable rupee trade between the two countries.
The mechanism is gradually gaining traction, according to Prasad. It has also rekindled the so-called 'rupee-ruble affair', a Soviet-era mechanism with a similar aim of bypassing the dollar.
The authorized dealer banks in India for SRVAs are UCO Bank, Union Bank of India, State Bank of India, Industrial Development Bank of India, Indian Bank, Axis Bank, Bank of Baroda, and Punjab National Bank.
You can share this story on social media: