Rupee-ruble payment pact talks reportedly suspended
Moscow is wary of a glut of Indian currency in its treasury, while a growing trade imbalance and double conversion worries New Delhi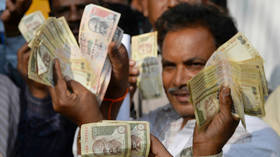 Negotiations between India and Russia on a rupee-ruble payment mechanism have stalled after a year of talks, anonymous officials from the Indian finance ministry have told Reuters.
Russia reportedly does not want a surplus of rupees, which stands to reach the equivalent of over $40 billion this year, in its coffers, because of the growing trade imbalance between the two countries. However, an unnamed Russian official cited by Indian news agency ANI dismissed the claims, dubbing them "wishful thinking" by Western media.
Another reason for the reported suspension of talks is the tedious and expensive process of currency conversion. Since the rupee is not fully convertible, the double conversion charges can reach up to 3% of the total transaction value.
Ajay Sahai, director-general of the Federation of Indian Export Organizations (FIEO), recently outlined to RT the "operational issues" facing the rupee-ruble trade mechanism: "There are concerns among Russian exporters about dealing with a glut of rupees. The exchange rate, too, has been another area of concern," he added. Sahai urged an administrative exchange rate that could be derived for a limited and fixed time frame, for example 15 days, to save additional hedging costs, which Indian exporters are averse to.
The reported collapse of negotiations comes amid a spike in India-Russia trade deficit on the back of imports of discounted Russian oil. Indian refiners are no longer enjoying windfall gains following a significant fall in global crude prices and shrinking discounts on Russian oil, another hurdle on the way to a working rupee-ruble trade mechanism.
Indian government data shows that imports from Russia jumped 369% to around $46.3 billion in 2022-23 from $9.87 billion in 2021-22. This is largely attributed to an exponential increase in crude shipments, as Moscow pivots towards Asian economic powerhouses such as India and China to cushion itself from the US-led Western sanctions' aftershocks.
Russia's Foreign Minister Sergey Lavrov acknowledged the problem of the abundance of rupees, while speaking with media on the sidelines of the Shanghai Cooperation Organization (SCO) Council of Foreign Ministers' meeting, in the western Indian coastal state of Goa. "As for rupees, this is a problem because there are billions of rupees accumulated in accounts at Indian banks and we need to use this money. For this, rupees should be converted into other currencies. This is being discussed," he said.
However, Lavrov cited the understanding among SCO member states about "boosting the use of national currencies" in a bid to avoid the "abuse" of the dollar. "We can use the practices that are currently being formed in the Eurasian Bank of Reconstruction and Development and the new BRICS Development Bank," he added.
You can share this story on social media: