India's crude imports from Russia up tenfold – state lender
New Delhi has saved an estimated $5 billion on deliveries despite shrinking discounts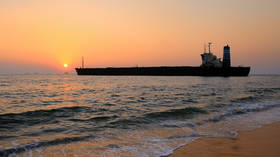 India's imports of Russian seaborne crude oil rose tenfold in the financial year ending March 31, according to Bank of Baroda (BoB), the country's second-largest public sector lender.
Asia's third biggest economy saved an estimated $5 billion during the period thanks to hefty discounts offered by Moscow.
The ramped-up crude purchases helped India's foreign exchange reserves to increase by $4.53 billion to $588.78 billion as of April 28, according to the Reserve Bank of India (RBI), the nation's central bank.
Russia has pivoted towards India and China following US-led Western sanctions imposed after the outbreak of the conflict in Ukraine.
Moscow sold oil to Asia's leading economies at a discounted rate that was upwards of $30 per barrel at its peak last year, when the G7 nations capped the price at $60 a barrel in December in a bid to choke the Russian economy.
Though the discount has shrunk by 50% owing to Chinese bulk-buying of Russian oil, seaborne Russian Urals crude remains India's priority, dislodging imports from Iraq and Saudi Arabia.
BoB figures showed that in the last fiscal quarter of 2022, Russian crude accounted for around 20% of Indian imports, compared to just 2% in the corresponding period in 2021.
The energy policy decision has helped India save an estimated $89 per tonne of crude.
However, Indian energy experts have warned that Russia's status as the leading crude importer is similar to that of Iran until 2019, when it imported over $10 billion worth of oil annually.
India stopped purchasing crude from Iran four years ago, following the expiry of a waiver on US sanctions imposed since the 1979 Iranian revolution.
However, some experts are optimistic that Russia might not meet Iran's fate. They have cited the upward swing in bilateral trade between Moscow and New Delhi, which is likely to exceed $50 billion by the end of this year, despite the reported suspension of talks on a rupee-ruble payment mechanism.
India's Iran experience could also serve as a lesson for its oil diplomacy with Russia on the back of historic strategic ties.
India has resisted pressure from the US and Europe, refusing to fall in line with Western sanctions on Moscow. It has also refrained from condemning the Russian military operation against Ukraine at the United Nations. Punitive US action such as the Countering America's Adversaries Through Sanctions Act (CAATSA) is unlikely to hit India as Washington is acutely aware of the gains it could accrue from easier access to one of the world's biggest markets.
India has steadfastly defended its oil purchases from Russia amid Moscow's expanding role in New Delhi's energy mix.
It has argued that as the third-largest importer of energy resources, it would opt for cheaper options as millions of Indians are still living in abject poverty.
Indian External Affairs Minister Subrahmanyam Jaishankar outlined his nation's position last year, stating that "Europe has managed to reduce its imports while doing it in a manner that is comfortable."
"If it is a matter of principle, why did Europe not cut on the first day?" he asked.
You can share this story on social media: