G20 foreign ministers' meeting likely to end in deadlock with the body's relevance under threat
Representatives of the world's 20 largest economies are meeting in India amid discord over Ukraine and US-China tensions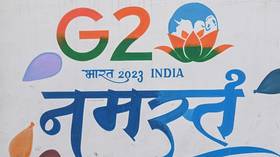 The G20 is in the throes of global dissonance ahead of a meeting of its member's foreign ministers in New Delhi this week. India holds its rotating presidency until November 30, 2023.
The two-day event, which starts on Wednesday evening with a gala dinner, is an early gathering in the run-up to the heads of state summit that will be held in the same city in September. Representatives of the world's 20 largest economies (including the 27-member European Union) are expected to attend the event.
"Besides, nine nations are special invitees, who are not members of the grouping, apart from 13 international organizations," said Vinay Mohan Kwatra, India's foreign secretary during a media briefing on Wednesday morning.
An early jarring note was struck by Japan, whose foreign minister Yoshimasa Hayashi will not attend the meeting, Kwatra confirmed. The top Indian diplomat cited the minister's "domestic compulsions" — he has chosen to take part in parliamentary business back home — despite New Delhi's "sterling relationship" with Tokyo.
But Hayashi's decision should not be seen as a snub to New Delhi. Instead, it can be interpreted as a worrying sign that the G20 itself, for all its economic clout, is seen as insignificant in the current global political climate.
With winds of change sweeping the world since the start of Russia's special military operation in Ukraine over a year ago, and the Kremlin's spokesman stating that NATO is de facto at war with Russia, what can the meeting hope to achieve?
The clout of emerging economies
G20 members represent around 85% of global gross domestic product (GDP), over 75% of global trade, and about two-thirds of the world population. Among them are many emerging economies, such as India, which are happy to take a middle path and don't want to be fully aligned with either the US-led Western nations or the Russia-China axis.
The combined economic might of eight of the nine (Russia excluded) G20 members that are emerging economies – India, Brazil, Mexico, Indonesia, Saudi Arabia, Türkiye, Argentina and South Africa – amounts to more than $9.5 trillion. Cumulatively, the size of their economies is larger than any single member's except the US ($23.32 trillion) and China ($18.32 trillion).
India's headache
Indian Prime Minister Narendra Modi's slogan, Vasudhaiva Kutumbakam, a Sanskrit text from the Vedic scripture of the Maha Upanishad, loosely translates to One Earth, One Family, One Future. This optimistic outlook is somewhat pale amid the prevailing global situation. New Delhi has to play host to guests from opposing global camps, such as the US Secretary of State Antony Blinken, together with his Western counterparts, and Russian Foreign Minister Sergey Lavrov.
The gathering is bound to be a tense affair amid a growing schism among G20 members over the Ukraine conflict and the escalating US-China tensions over Taiwan as well as Washington's attempts to cut Beijing off from technical and economic development.
India, as the current president, is likely to try and steer the discussion towards more neutral and global issues, such as climate change and the debt burden suffered by the world's poorest countries. On the former, Indian Minister for External Affairs Subrahmanyam Jaishankar said in January that a Green Development Pact would be one of the main items on the G20 agenda under India's presidency.
On the latter, Modi made developing countries' growing debt one of the main talking points during last month's Voice of Global South Summit. According to data released by the World Bank last year, $13.1 billion or about 37% of the $35 billion in debt service payments due from the world's 74 lowest-income nations during the year is owed to Chinese entities. A similar amount, $13.4 billion, is owed to the Chinese private sector.
To make matters worse, the $35 billion estimate for last year was a 45% increase over the total debt payments ultimately owed in 2020 at the height of the Covid-19 pandemic, according to the bank. The lack of transparency in Chinese debt holdings has been a source of global debate.
India is eager to play a leading role in the Global South, and speaking out against debt burden has been one of its main avenues for doing so. This issue itself could be a source of discord at the G20 gatherings even as New Delhi tries to steer discussion away from more immediately contentious subjects.
Talking points
Kwatra refused to speculate on the possible outcome of the meeting and on whether the Ukraine crisis would be the overarching topic of discussions. He parried the media's searching questions about which side India would lean on and deflected on terminology – whether New Delhi would like to call it a conflict, war, military aggression or special military operation. He did, however, refer to Modi's remark that "today's era is not one of war", made by the PM in Samarkand, Uzbekistan, last September during the annual Shanghai Cooperation Organization (SCO) summit.
He also listed out the agenda for Thursday's meeting, which are divided into two distinct sessions to be presided over by Jaishankar. The first session would deliberate on the three principles of multilateral issues such as food, fertilizer and energy security coupled with developmental cooperation. The second session will center on new and emerging threats such as countering terrorism, including lethal use of narcotics, global skill mapping and humanitarian assistance and disaster risk reduction.
India, which has been a beneficiary of cheap Russian crude oil since the imposition of Western sanctions over the Ukraine conflict, is keen to ensure that Moscow's military operation doesn't dominate the event. The topic will still almost certainly be the case, with Blinken planning to highlight US efforts to address food and energy security issues affecting developing nations. He is planning to "underscore the damage that Russia's war of aggression has caused" and urge other nations to press Moscow for "cessation of hostilities in Ukraine", according to Ramin Toloui, the US assistant secretary of state for economic and business affairs.
The other big global stand-off between the US and China will most likely feature prominently as well. Recently, Beijing has been seeing red over Washington's attempt to "endanger peace and stability in the Taiwan Strait" after a US military aircraft flew over the contentious waterway.
Previously, the Chinese Foreign Ministry had issued a rare straightforward rebuke to American 'hegemony' in a scathing essay widely shared by Chinese media. And earlier this month, a row erupted when the US military shot down what it claimed to be a Chinese spy balloon that flew over its airspace.
Though China maintained it was a civilian research vessel that was accidentally blown off course, the dispute led to Blinken calling off his scheduled trip to Beijing. State Councilor Wang Yi called the US handling of the balloon incident "unimaginable" and "hysterical".
These factors make it likely that Chinese Foreign Minister Qin Gang, who is on his maiden trip to India after his predecessor Wang was elevated as the State Councilor, will try to counteract Blinken's anti-Russian overtures at the G20 meeting.
The likely outcome
In a zero-sum game that has come to signify modern-day diplomacy, a lack of consensus is the most plausible outcome after the two-day meeting, as Russia and China refuse to back down to bullying from US-led Western nations over the Ukraine situation. The emerging economies will likely be reduced to playing the role of a casual bystander, even as New Delhi bids to amplify its stance as the leading voice of the Global South.
The G20 finance ministers' meeting last Saturday failed to adopt a joint statement on the global economy over lack of consensus on a raft of issues. A similar outcome is on the cards in this week's meeting.
The statements, views and opinions expressed in this column are solely those of the author and do not necessarily represent those of RT.
You can share this story on social media: