Stymied Walmart closes Moscow HQ
Published time: 13 Dec, 2010 13:28
Edited time: 13 Dec, 2010 16:43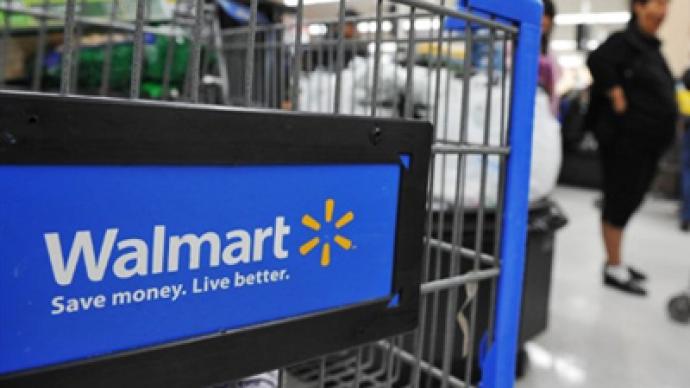 Walmart, the world's largest retailer, which has been seeking to move into the Russian market for some years, has closed its Moscow HQ.
­Announcing the decision, Walmart's International President, Doug McMillon said that although the company wasn't giving up on its long term plans to enter Russia, the immediate lack of a viable merger target meant there was little point in maintaining a Moscow headquarters.
"Since we have decided to enter the market through acquisition, notgreenfield development, and since there is no clear acquisition  partnerin the near term, there is not a business reason to continue our  Moscowrepresentative office"
Walmart was keen about entering the Russian retail market through an offer for the Kopeyka chain in October, but Russia's largest retail player, X5 group, took over its smaller rival.
Bank of Moscow analyst Vitaly Kupeev says Kopeyka's format was the most attractive for Walmart in terms of market entry and strategic expansion in Russia, but he adds that the fierce competition has made it wary.
"Walmart is American retail giant which tried to open its business in Russia but failed to reach an agreement with a potential retail chain. The reason for Walmart stepping back is aggressive competition from existing Russian retail chains, which control the market and are not willing to give up their market share at this time, when retail business revenues are soaring and company share prices are up."
This year existing Russian and European retailers have tightened their grip on the market leaving little chance for global retail giants such as Carrefour and Walmart. Kupeev says buoyant Russian consumer demand sees little motivation for existing players to sell out, unless at a significant premium.
"The market is growing and the current retail business owners expect to get higher yields from it, and are not willing to sell their business but are purchasing and acquiring more, rather than exiting. This year was very fruitful on retail acquisitions and IPOs. We saw number of X5 group deals and the Okey IPO which means that they are not looking to sell their business"
Doug McMillon says Walmart will bide its time while trying to find the right access point for the Russian market, but added it is not going to go way.
"The company will keep an eye on Russian retail market to look for potential partners and suitable formats. Russian retail market opens up exciting opportunities in the retail sector with growing consumer demand and vast territory of the Russian Federation."