Market Buzz: Russian stocks to open with gains following Wall Street's record highs
Published time: 11 Apr, 2013 07:02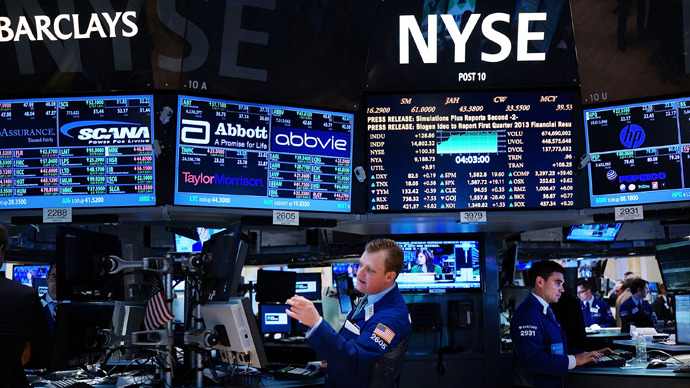 Russian floors will start the day in the black after a rally on Wall Street and a positive outlook in Europe.
On April 10, Russian markets closed higher but failed to demonstrate equally strong growth as in the US and Europe. The MICEX closed at the opening mark of 1425.5, while the RST rose 1% to 1459.81. 
Mechel shares advanced the most on Wednesday on news that VTB bank has loaned the company 40 billion rubles ($1.3 billion), and rumors that China's Baosteel could buy a blocking stake in Mechel mining division for $1.25 billion. Shares of NLMK, Severstal, E.ON Russia and MRSK Group also were in the black. 
Today, Acron and Sberbank are closing their registers, and retailer O'key will publish its operating results.
The main European stock markets closed sharply higher on Wednesday, with London's FTSE 100 gaining 1.17%, the German DAX adding 2.27% and France's CAC40 gaining 2%. Spain's IBEX 35 also grew by as much as 3.4%.
On Thursday, Germany will publish its consumer prices update for March, and the US will post an update on weekly unemployment claims.
Wall Street also posted gains on Wednesday – FOMC minutes revealed that the Federal Reserve is set to proceed with its $85-billion-per-month asset purchase program. News from the Fed and optimism about the upcoming earnings season prompted a rally on Wall Street. The Dow and the S&P 500 set new record highs by the end of Wednesday's trading session. The Dow Jones Industrial Average climbed 0.87% to close at 14,801, the S&P 500 gained 19 points, or 1.22% to 1,588, and the NASDAQ Composite rose by 1.83% to 3,297.
Asian markets also rose on Thursday after another record-setting session in the US. Japanese stocks reached multi-year highs as the dollar approached the 100-yen mark after the Bank of Japan's newly introduced aggressive stimulus plan.
Tokyo's Nikkei rose 0.83%, Hong Kong's Heng Seng added 0.81% and Sydney's S&P/ASX200 gained 0.58%. Shanghai Composite climbed 0.29% and Seoul's KOSPI lost 0.27%.
Oil is lower, with Brent losing 0.18% and WTI down by 0.27%.