Market Buzz: Stocks to gain on calm, positive background
Published time: 9 Apr, 2013 07:09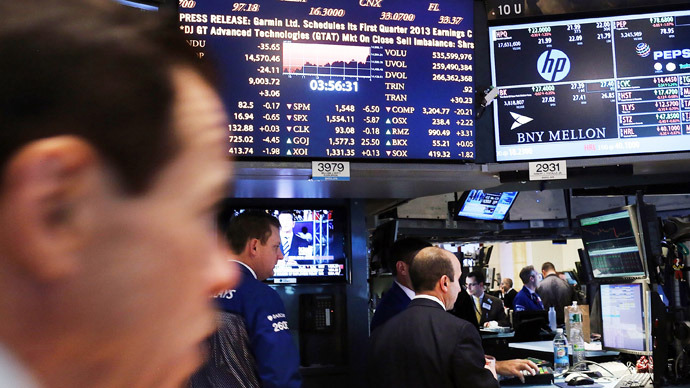 Russian floors will likely start off Tuesday in the black due to a positive outlook on the consumer goods market and rising oil prices. No big macroeconomic news is expected for Tuesday.
Monday's session ended mixed on Russian floors, with the MICEX losing 0.57% and the RTS adding 0.61%. 

European stocks closed higher on Monday as investors awaited the start of the US earnings season, while also eyeing the situation in Portugal, where the Supreme Court struck down some of the government's planned austerity measures. Portugal now must look for new ways to raise as much as €1.3 billion of this year's budget to keep its bailout program afloat.
Europe's major indices demonstrated moderately positive dynamics, with Britain's FTSE100 rising by 0.43%, the German DAX growing by 0.05% and the French CAC40 adding 0.09%. 
Wall Street also closed in the black on Monday: The Dow grew by 0.33%, the S&P 500 gained 0.63% and the NASDAQ was up by 0.57%. 
Alcoa, the first company on the Dow Jones Industrial Average to report earnings, made its quarterly announcement after markets closed: The aluminum producer posted a net quarterly income of $149 million, up from $94 million a year before.
US stocks showed strong performances this year, with major indices hitting record highs, partially thanks to the Federal Reserve's stimulus program. However, last week the major indices demonstrated major losses, indicating that the pace of economic growth is slowing down. 
Asian floors are mostly trading in the black: Bank of Japan is pushing the Nikkei up 0.5% to 13,260.04, extending gains for a fifth session in a row. The yen is trading at its lowest value since May 2009.
Hong Kong's Hang Seng rose 0.8% to 21,890.51 and Australia's S&P/ASX 200 jumped 1.3% to 4,967.70. Benchmarks in mainland China, Singapore and Indonesia also rose.
Oil prices are in the black: Brent is up by 0.5% and WTI has added 0.41%.