Market Buzz: Optimism afoot heading into weekend
Published time: 5 Apr, 2013 06:55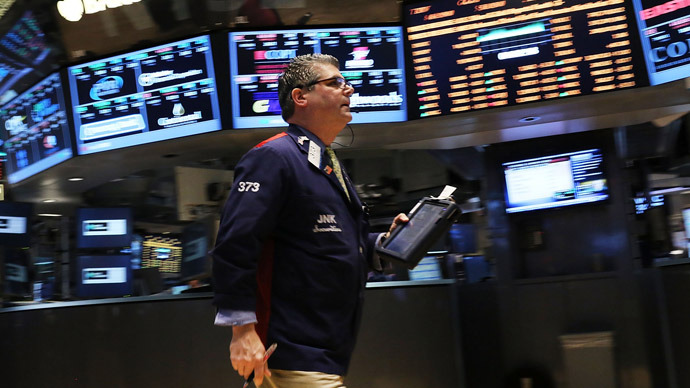 The stimulus announcement continues to positively jolt Asian markets, Hong Kong an exception as they face a possible bird flu academic, and American analysts wait on unemployment data.
After skittish Thursday trading, Russian bourses are expected to rebound slightly on stable US trading and rising oil prices, along with a forecast local trade surplus announcement.

Telecom industry news shook up Thursday's market in Russia. After Swedish Tele2 completed its Russian division sale to VTB Group, VimpelCom fell 2.9% on the New York Exchange to a two-and-a-half week low of $11.55.
Both the MICEX and RTS made slight recoveries from Wednesday's losses. MICEX edged 0.18% to 1,427.97 and RTS gained 0.17% 1,421.84 at New York close, after experiencing a 'negative' day on the Moscow trading floor. The rouble reached a seventh-month low, and Thursday hit 31.5985 against the US dollar at Russian market close.
Optimism of investors of US sites and rising oil prices will allow the Russian market to begin today higher.
European markets also closed Thursday in the red. The British FTSE100 index showed a decrease of 1.43%, and Germany's DAX lost 0.73%.
US stocks enjoyed mild boosts, and remained relatively unaffected by the stimulus news from Japan. Both the S&P 500 and Nasdaq indices rose slightly, at 0.40% and 0.20% respectively. The Dow Jones closed after gaining 55.76 points, up to 14.606.11.
Friday, investors will be closely eying the US for market trend data. March unemployment statistics will become available and the rate will likely hover around February's 7.7%.
At 12:30 GMT, US-Russian foreign trade balance statistics will become known, and could also factor into trading. The number is projected at a surplus of $44.6 billion.
The biggest news Thursday of course hailed from Japan, with the announcement of the Bank of Japan's aggressive stimulus plan which expands government bonds by 50 trillion yen (US$520 billion) per year, which will further weaken Japan's currency, and likely boost exports.
Asian markets exploded with the news, mostly positively. Japan's shares hit a four-and-a-half-year high after the stimulus news, the Nikkei 225 hit a surge of 3.6%, and climbed above 13,000 the first time since August 2008, before retreating back to 12,868 as trading continues on the Tokyo exchange. Toyota Motor Corp also reacted positively to the news, and has already jumped 3.2%. 
Hong Kong markets are lagging on a bird flu outbreak, and the Sang Index fell 2.52% and is still on a downward trajectory.
The Australian S&P ASX is currently on the decline, and has dropped .045% since markets opened.
Brent Crude Oil has remained almost stagnant, with less than 0.01% change. Light Crude has experienced more significant losses, and is down to $93.10.