Market Buzz: European data to be major driver of stocks
Published time: 10 Apr, 2013 06:58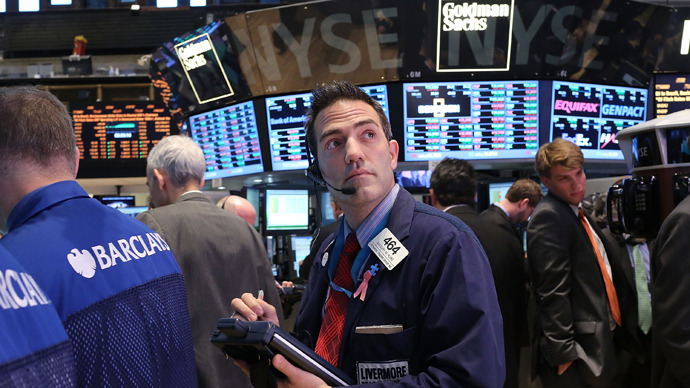 Russian floors will likely open in the black and see moderate growth for the first half of Wednesday. Later, investors will eye news from Europe in hopes of market drivers.
Updates on inflation rates will be released for a number of European states, including Portugal, Norway and Denmark. France saw a better-than-expected rise in industrial output last month, official data showed on Wednesday; Spanish and Italian industrial production data is expected to follow.

Tuesday saw steady growth on Russian floors amid optimistic data from both the US and Asia. Major Russian indices ended their trading sessions in the black, with the MICEX rising 1.2% to 1425.5 and the RTS going up 1.4% to 1439.5. 

Metallurgy firms were the biggest gainers, especially VSMPO-AVISMA Corporation, Norilsk Nickel and Mechel. A report from aluminum giant Alcoa Inc. showed it had a better-than-expected US earnings season, sending positive signals to the metallurgy industry. The sector was also buoyed by data from China indicating that state inflation is declining, strengthening demand prospects.
Russian energy shares – including TGK-1, MRSK, FSK EES and TGK-2 – fell on Tuesday.
European floors ended Tuesday in positive territory. Britain's FTSE100 added 0.6%, with UK stocks posting gains on the news that manufacturing output rose 0.8% in February from January, indicating that Britain may escape a triple-dip recession. The French CAC40 grew by 0.1%, while the German DAX dropped 0.3%. European indices held onto gains into midday, as mining firms saw advances due to higher metals prices. 
US stocks climbed Tuesday amid a rally in commodity prices. The Dow Jones Industrial Average climbed to a record high of 14,673.26, up 0.4%. The S&P 500 almost hit a record, rising 0.35% to 1,568.61, and the NASDAQ added 0.5% to 3,237.86.
Most Asian stocks saw gains on Wednesday following another record high for the Dow in the US, as well as positive data from China. Hong Kong's Hang Seng rose 0.2% to 21,910.15, South Korea's Kospi advanced 0.8% to 1,935.74 and Australia's S&P/ASX 200 fell 0.1% to 4,971.90.
Japanese shares have grown due to the weak yen. The Bank of Japan's aggressive new approach caused a wave of enthusiasm in local markets: Tokyo's Nikkei rose 0.8% to 13,292.86.
Oil is trending slightly negative on Wednesday, with Brent losing 0.16% and WTI down by 0.43%.