VimpelCom merger complete as Altimo eases out
Published time: 18 Apr, 2011 07:39
Edited time: 18 Apr, 2011 13:35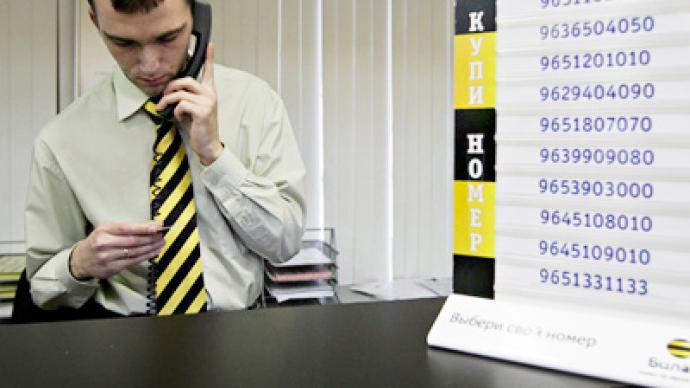 Russian mobile operator, Vimpelcom, has completed its merger with Wind Telecom to create the world's 6th largest mobile telecommunications provider, as major shareholder Altimo has revealed plans to sell down its stake.
The deal, worth $1.5 billion in cash, along with the issue of new stock representing 20% of outstanding shares, and 31% of voting rights to Wind shareholders, will see a merged entity servicing more than 180 million subscribers in 20 countries around the world, including Europe and North America, Russia, Ukraine, CIS countries, with Africa and Asia becoming the main business units within the new corporate structure.
The merger will see Wind Telecom executive chairman Naguib Sawiris become a 30.6% voting interest shareholder with 20% economic interest in VimpelCom, leading to VimpelCom having 3 major shareholders owning approximately equal stakes in the Company.
Both parties to the deal were optimistic about the merger, with Jo Lunder, Chairman of VimpelCom, talking about its historic importance for the Company.
"This landmark transaction is a significant step forward for VimpelCom. It establishes the growth platform that the Supervisory Board has strongly supported, allowing us to become a truly global player with a strong presence across Europe, Asia and Africa.At the same time, the enlarged VimpelCom remains committed to delivering enhanced shareholder value in 2011 and beyond, which is critical to the success of a leading global company."
VimpelCom Chief Executive Officer,Alexander Izosimov,added that the merger will significantly increase the capacity of the joint company.
"The closing of this large and complex transaction opens the door for new and exciting growth opportunities, positioning the Company to capitalize on strong growth in emerging markets, industry consolidation, and the rapid development of mobile data. VimpelCom has already commenced integration initiatives and we are focused on realizing synergies, particularly in the area of procurement, and capitalizing on the Company's strengthened leadership, scale and market expertise.Furthermore, we look forward to delivering on our commitment to strengthening our financial position through rapid debt paydown and to driving sustained growth in our business."
Naguib Sawiris, Chairman of Wind Telecom, also expected major synergies from the deal, with both large and minority shareholders benefitting.
"We share a common global vision with our new partners at VimpelCom.The prospects for our new, enlarged and diversified telecoms platform are exciting and a reflection of our high quality assets across each of the geographies where we operate.Moreover, I am confident that our minority shareholders in Orascom Telecom will benefit from the synergies created from the combination of the two entities and by the overall strengthening of the Orascom Telecom balance sheet. "
However, shortly after the announcement of the deal Altimo, the biggest Vimpelcom shareholder, said, in a press release, it was moving to terminate its shareholder agreement with Telenor, reducing its voting stake to below 25% by selling preferred shares.
"In light of these developments, Altimo believes that the current Shareholders' Agreement is no longer appropriate, and that efficient corporate governance will be delivered by more standard governance arrangements."
Altimo Vice President, Evgeny Dumalkin, added he was sure the existing VimpelCom structure will provide for efficient operations of the merged company.
"After the merger with Wind, VimpelCom becomes a global leading telecommunications company and its corporate governance rules now need to adequately protect its diverse shareholders base. Altimo is confident that VimpelCom's three independent directors will continue to play a key role on the board for the benefit of the Company and all its shareholders".
Altimo also said it wasnot violating the undertakings given to the London Commercial Court in February 2011, which said the combined voting stake of Altimo and Telenor would not fall below a simple majority, as Telenor's voting stake is 25.01%.
Anna Lepetukhina andEvgeny Golossnoy from Troika Dialog were less upbeat about the move, saying it could trigger another dispute between Telenor and Altimo.
"We believe the news is negative for sentiment toward VimpelCom Ltd shares, as termination of the shareholders agreement is likely to intensify the conflict between Telenor and Altimo, and the new composition of the Supervisory Board will likely reduce minority shareholders' representation."