Venezuela applies double standard to bolivar exchange rate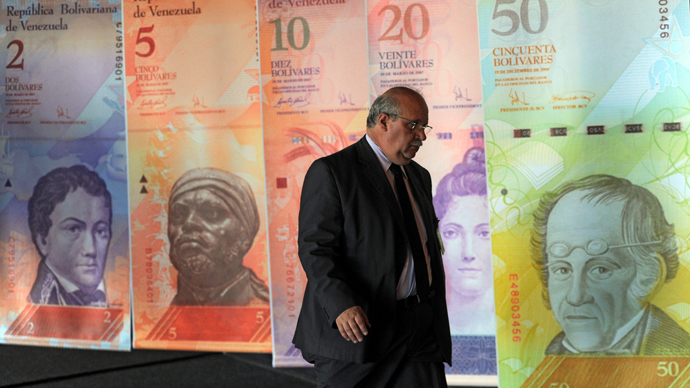 Venezuela has revamped its tough currency controls. Only importers of priority goods like food and medicine will be able to buy dollars at the official rate of 6.3 bolivars, everyone else will pay nearly double.
The exchange rate for essential goods such as food and medicine will remain at the regular 6.3 bolivars per dollar. However, Venezuelans traveling or buying airline tickets will be faced with an extremely unfavorable rate of 11.3 bolivars, known as the Ancillary Foreign Currency Administration System (Sicad) rate.
The move aims to crack down on the black market rate which now stands at about 10 times higher the preferred rate, according to Oil Minister Rafael Ramirez. Billions of dollar in savings could be used for purchasing basic needs.
"Should we give dollars to people who resell them on the black market, or should we bring in medicine? Should we give dollars to travelers, or should we bring in food?" Ramirez said.
There have been a flood of Twitter debates calling the government move nothing more than disguised devaluation that will increase the cost of living, with the underlying problems remaining unresolved.
"It looks like a devaluation, it quacks like a devaluation, it hurts like a devaluation: it's a devaluation," as Reuters quotes one of the Twitter users.
Critics also say the measures could further boost inflation in Venezuela that stood at 56.2 percent in 2013 - already the highest in the Americas.
Ramirez, however, insisted it was not a devaluation of the bolivar, but a measure to avoid a crisis, and boost the economy.
He said just 20 percent of Venezuela's dollar needs will now be subject to a Sicad rate. Meanwhile, 80 percent of the country's food requirements, agriculture, health and education will be covered at the official 6.3 rate.
"So we can't call this a devaluation, that is the enemy's spin," he told state TV. "We ask our people for understanding, we would never betray them," Ramirez said.
To show how different exchange rates impact normal consumers in Venezuela, Reuters calculated that a McDonald's Big Mac Combo would cost $2 at a black market exchange, $14 at the Sicad rate and $25 at the official exchange rate.
You can share this story on social media: