Facebook IPO gains to exceed commodity profits of Russian moguls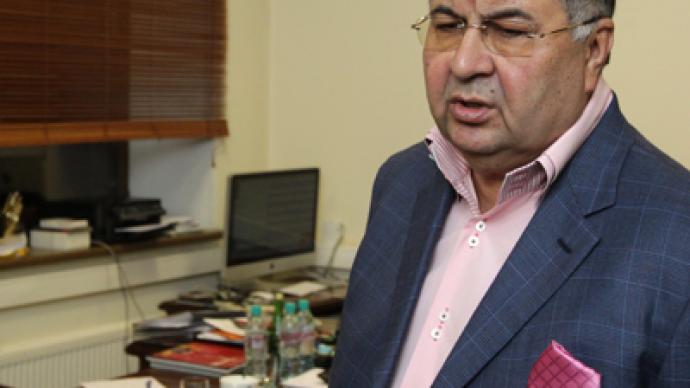 It is not just commodities that create fortunes for Russian businessmen. Investment into the world's most popular social network Facebook could bring tycoons Alisher Usmanov and Yuri Milner billions in the aftermath of the site's huge IPO.
Usmanov, Facebook's third biggest shareholder, could get billions from his investment in the network, made between 2009 and 2011. Given the price tag of $38 per share, Usmanov and his partner Milner's initial investment of $900 million made through Mail.Ru and Digital Sky Technologies (DST) could raise up to $6 billion, the New York Times calculates. By way of comparison, Usmanov's Metalloinvest, one of the global giants in iron ore markets, reported $1.4 in net profit in 2011 under IFRS.The 2011 bottom line of another Usmanov asset – the Mail.Ru internet group – stood at $207.6 million.The two Russian moguls will get their yields gradually, as part of their Facebook stake cannot be sold for three months after the IPO, according to a lock-up agreement signed earlier. The money earned from Facebook's IPO might be used to finance operations, M&A deals, as well as pay dividends, Mail.Ru explained.Despite many experts branding the start of the much-anticipated IPO as quite moderate, hit by overall pessimistic investor sentiment and a 30-minute delay of placement, it is expected to bring a massive windfall to its shareholders. Facebook IPO was second only to that of Visa Inc., which yielded $19.65 billion in its IPO, while overall sales of Facebook shares will top $18 billion. The IPO value stands at $104.2 billion, which is twice the valuation of Google in its 2004 offering. Facebook valuation was 26 times above its revenue, while for Google the figure was five. Facebook's profit last year rose 65% to $1 billion, on the back of $3.71 billion in revenues. For about half an hour, Facebook was worth more than the world's largest gas monopoly, Russia's Gazprom, the market capitalization of which was about $106 billion at the close of trading on Friday. Smaller Russian investors, largely retail, who wanted a piece of the historic IPO were left out in the cold, as Facebook shares were oversubscribed at the upper price range. Brokers Finam and BCS collected about $100 million in bids to buy Facebook shares, but the bids were not met. Most of the shares in the IPO went to major funds, and small bids from Russia were ignored, said Finam spokesman Vladislav Isayev.Alisher Usmanov was renowned as Russia's wealthiest person, with a fortune estimated at US$18.1 billion, and the world's 28th richest person, according to Forbes 2012 edition. Among his assets are the media holding that includes federal television channels, as well as 33 regional TV broadcasting stations. On top of that, Alisher Usmanov personally owns the Kommersant and Sekret Firmy Publishing Houses, shares in the company SUP, which controls the website Livejournal.com and internet newspaper Gazeta.ru. Usmanov is a co-owner of Russia's second-largest mobile telephone operator MegaFon and Russian investment fund Digital Sky Technologies (DST), which owns stakes in popular web portals such as Mail.ru, Odnoklassniki.ru, Vkontakte.ru, Facebook.com and others.Yuri Milner, a Russian entrepreneur and venture capitalist, was Usmanov's partner in setting up investment firm Digital Sky Technologies (DST), now called Mail.ru Group and DST Global. Through Mail.ru Group and DST Global, Milner is an investor in Facebook, Zynga, Twitter, Spotify, ZocDoc.
You can share this story on social media: