Record low temperatures in US to 'freeze' $5bn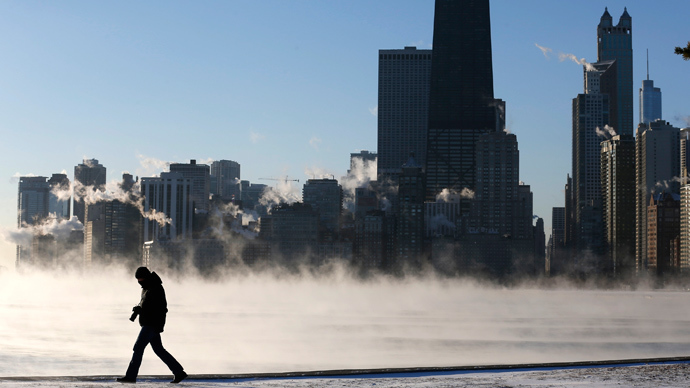 The cold spell that has put almost half of the US in deep freeze will cost the country an estimated $5 billion, as millions of Americans stay at home instead of going to work, travelling or shopping.
The record low temperatures in some parts of the US are lower than at the South Pole, and have huddled some 200 million people in their homes in the eastern part of the country. That comprises about two-thirds of the population, according to Evan Gold, senior vice president at business weather intelligence company Planalytics.
"We think that the problem will be short-lived, but we estimate it will cost about $5 billion because of the sheer size of the population affected," Gold said.
In New York the temperature dropped to its lowest in more than a century. At the township of Embarrass, Minnesota the mercury plunged down to -35F (-37C) and touching as low as -45F (-43C) when the wind chill factor was taken into account.
The cold spell dubbed a "polar vortex" will also reflect in next month's consumer spending, according to Gold, as the abnormal cold will increase heating bills and eat into discretionary spending.
The demand for natural gas in the northeastern US has reached a 5-year high, with prices for natural gas in New York rising by about $60 per million BTUs [British thermal units] at the beginning of the week.
On a macroeconomic scale, the "polar vortex" could erode about 0.1 percent off the US GDP, driving it to 0.1 percent in the first quarter, according to Nariman Behravesh, chief economist for IHS Global. However this "will probably all be gained back in the second quarter," the economist added.
Companies like restaurants and airlines are going to be hit the most, with some 2,380 flights already canceled and 2,912 delayed, according to the Telegraph.
Friday's job report could also be affected by the cold weather, with December auto sales being another victim of the low temperature, Goldman Sachs analyst Kris Dawsey said.
However, certain businesses, like on-line firms, will win, as Americans stuck at home will switch to internet activities.
"There was some $30 million in gift cards sold at Christmas and, if I am stuck at home, I will go online to buy that coat or sweater. And revenue is not recorded for the store until the card is redeemed," Gold added.
Food delivery companies and on-demand cable services for movies will be among other winners, the Planalytics vice president concluded.
You can share this story on social media: