US credit rating: AAA - how long will it stay?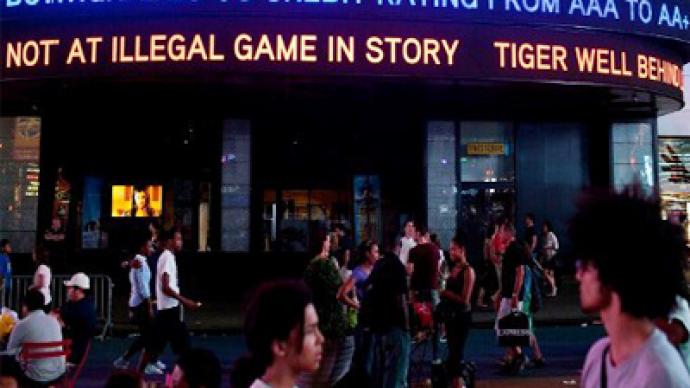 The US credit rating has been downgraded, by one of the smallest ratings agencies. Egan-Jones has pushed the US to AA, and analysts say the big three may follow suit.
The agency is concerned over the sustainability of public debt in the country, saying "the lack of any tangible progress on addressing the problems and the continued rise in debt to GDP," is the key reason behind the downgrade.
"If macroeconomic indicators remain the same – and I'm pretty sure, the U.S. will not have enough time to make any dramatic changes –all the major agencies will downgrade the US in the next 6 to 12 months", says Sean Egan, president of Egan-Jones.
So far S&P rates the U.S. double A plus after downgrading the country last summer, while Moody's and Fitch both have a triple A rating on the U.S.
Egan has assigned the U.S. the lowest rating. However all four agencies have a negative outlook for U.S. debt.
Roland Nash from Verno Capital says the US deserves the AA rating.
"Some of the issues that America faces now mean that it shouldn't have a triple A rating. With the U.S. still being a dominant economy, if the downgrade happens it will have a negative effect on the markets", concludes Nash.
About two weeks ago U.S. Federal Reserve Chairman Ben Bernanke seemed to be puzzled over the combination of modest economic growth and rapid declines in unemployment in the country, warning however, the U.S. job market is still weak despite efforts by the Fed.
Following Friday's report of a sharp slowdown in U.S. jobs growth, all the pieces of this challenging puzzle are coming into focus: the world's largest economy has not regained its strength, and now all ears will be on Bernanke's speech on Monday.
"Washington is trying to find ways to cut expenditure and raise revenue, but there's political deadlock there. Until they can decide what need to be done to solve these enormous institutional issues to face America and until they can find some sort of consensus, the practical steps that they are taking are irrelative to the scale of the problem", says Roland Nash.
Sean Egan from Egan Jones said the U.S.'s total debt as a percentage of GDP may rise above 112% by the end of 2013, a level that will restrain the country's financial flexibility, with a 1.2% probability that the U.S. would see a default in the coming year.
Though it's not all doom and gloom. Roland Nash from Verno Capital says if there's another downgrade investors will not rush to take their money out of the country: "What we saw last time then the U.S. was downgraded, is that the world went to North America – to the US dollar and to the US treasuries. Oddly enough, in times of financial stress people run to the dollar."