US Justice Dept lawsuit blocks world's biggest air carrier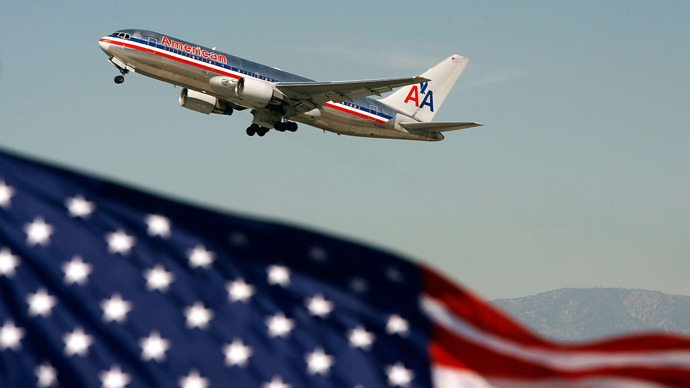 The US Justice Department has sued to block the merger of American Airlines and US Airways, which would create the world's biggest air carrier. The deal would cost consumers hundreds of millions of dollars a year in higher fares, US authorities warn.
The lawsuit, filed by the Justice Department and joined by attorney generals of six states and the District of Columbia, said they were alarmed that the potential deal would create a monopoly in US commercial aviation, where four major carriers would control more than 80 percent of the market.
"By further reducing the number of legacy airlines and aligning the economic incentives of those that remain, the merger of US Airways and American would make it easier for the remaining airlines to cooperate, rather than compete, on price and service," the lawsuit said.
The $11 billion merger would cause "substantial harm" to consumers by leading to higher fares and fees, the Justice Department said.
"Today's action proves our determination to fight for the best interests of consumers by ensuring robust competition in the marketplace," US Attorney General Eric Holder said.
The lawsuit is a departure for the US government, as in the past five years federal antitrust regulators have done little to object to big airline mergers. The administration of George W. Bush allowed Delta Air Lines to buy Northwest, while the Obama administration permitted United Airlines to combine with Continental, and Southwest Airlines to buy AirTran. This cut the number of major carriers on the US from nine in 2005 to five today.
Last week The European Commission gave a preliminary nod to the merger between US Airways Group and AMR Corp - the parent company of American Airlines. The deal will get final EU approval if the two companies provide for reasonable competition on the London-Philadelphia route.
American and US Airways had been so confident of a quick merger, planned for the third quarter of 2013, that they had already named executives for the combined company.  The new giant air carrier would operate under the American Airlines brand name, be named American Airlines Group Inc. and would be based at AMR's headquarters in Fort Worth, Texas.
AMR and US Airways said they are prepared to fight a "vigorous and strong defense" against the government's move to block their merger.
If the merger goes ahead, AMR shareholders would own 72% of the company and US Airways shareholders 28 percent.
You can share this story on social media: