Eurozone unemployment leaves 19.4mn jobless, 7 year high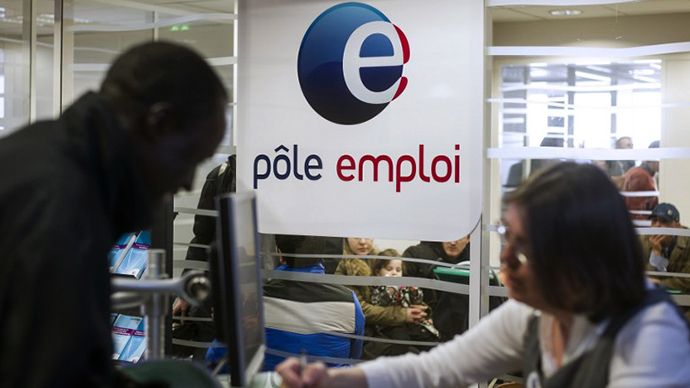 Just days after French President Francis Hollande announced the euro crisis was over, employment across the Eurozone collectively shrank 0.5 percent in the first quarter, bringing levels to their lowest in seven years.
A record 19.4 million people were out of work in April, when unemployment reached a record high, according to Eurostat data.

The drop left 145.1 million people employed, the lowest level since the fourth quarter of 2005.

The worst unemployment is in Europe's financial 'south' – Italy, Greece, Cyprus, and Portugal all drastically increased their jobless numbers.

In Greece, the number of people out of work increased by 2.3 percent, in Portugal 2.2 percent, in Cyprus 1.3 percent, in Italy 1.2 percent, and Slovenia, a country which has been on the tipping point of a bailout, neared 1 percent unemployment at 0.8 percent.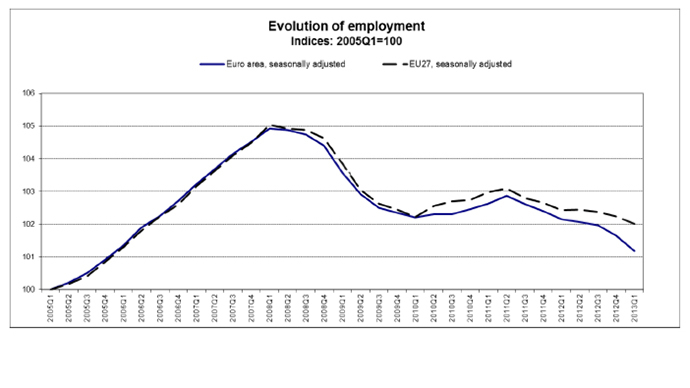 The periphery, or 'south' has been hit hardest by the financial crisis, and the figures only underscore the larger paradigm the euro economy has entered.

Italy, at the epicenter of the eurozone's longest recession, hit a 36-year record high unemployment rate in April, as data showed 40 percent of young people were jobless.

The Eastern European block registered growth in employment. Lithuania registered a 2.4 percent increase, Estonia 2.3 percent, and Latvia 1.0 percent.

The financial centers fared well. Employment in Germany rose 0.1 percent, 0.6 percent in Luxembourg, and 0.2 percent in Austria.
France, which officially dipped into recession for a second time in May, saw unemployment grow slightly by 0.2 percent

Seasonally adjusted, unemployment ballooned with the construction industry jumping 5.6 percent, and agriculture, forestry, and industry climbed 2.7 percent.

There was slight workforce growth in information and communication, professional services, and arts and entertainment.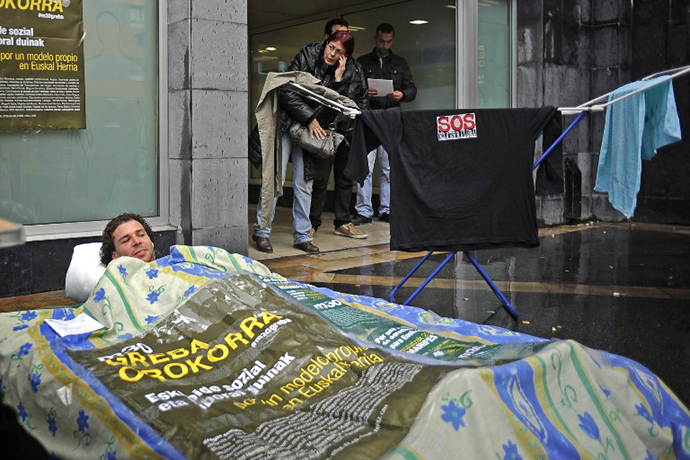 Interest rates
The euro zone, which has progressively contracted during the past two years, hasn't seen much in terms of promising recovery, so far in 2013 there have been the turbulent Italian elections and the drawn out Cyprus bailout.

The European Central Bank (ECB) cut its refinancing interest rate to a historically low rate of 0.50 percent in May, but some experts think the Bank may be forced to further slash rates down to 0.25 percent to support more growth.

In its last monthly report on June 7, the ECB said it doesn't intend to change its interest rate policy in the near future, but the new data may move them to additionally trim the rate to foster sustainable growth.

The unemployment rate in the United States jumped to 7.6 percent last month, up one-tenth of a point from April when the jobless figures were at the lowest since President Barack Obama first took the oath of office, but hasn't surpassed the crisis record high 10.1% in September 2009.

You can share this story on social media: