Snail speed: France's economy slips into recession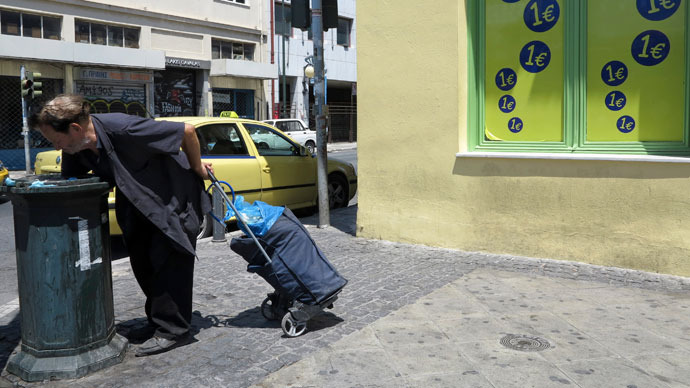 Just a week after France announced an 'end to austerity', it has fallen into recession for the first time in four years as spending and exports contract.
Official figures show France has returned to its second recession in four years, as the economy shrank by 0.2% in Q1 of 2013, after shrinking the same amount in the final of quarter of last year, which has brought the Guardian newspaper to declare a 'triple-dip recession' in the eurozone's second largest economy.
The preliminary data from the INSEE statistics agency shows that overall investment contracted 0.9 percent in the first quarter.
Business investment was down 0.8 percent, and exports contracted for a second consecutive quarter, shrinking 0.5 percent. Household consumption fell by 0.1 percent, the first time since Q2 of last year, despite high spending on energy over the winter season.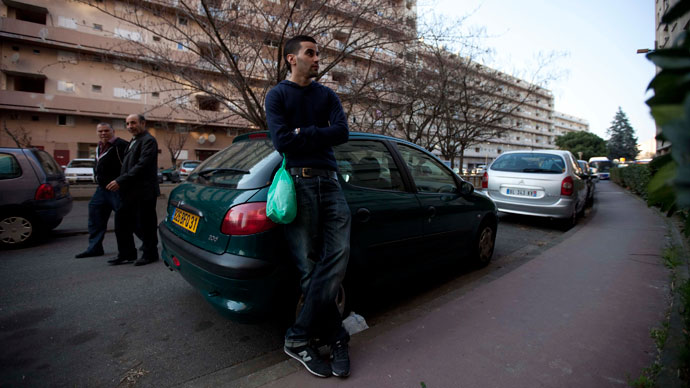 The data is more bad news for President Hollande and the Socialist government, who were elected on the promise to end austerity, and one year later, have failed.
30,000 leftists demonstrated against Hollande and the Socialist government, who have not delivered on their promise of 0.1 percent growth. The protesters' message was clear- austerity isn't working for France.
"We are here to tell him, Mr. President, time is up and you need to start changing things," one protester, teacher Thibault Sans, told RT.
First on the agenda of change is unemployment, which in France is expected to hit at least 12.2% this year, up almost 1% from 11.4% in 2012.
French employment is also well below the Eurozone average, but much lower than crisis headliners Spain and Greece, where unemployment is expected to peak at 27%.
Waning citizen support

A survey of 1,027 French people between April 26 and April 28 showed that only 11% think Mr. Hollande will succeed in his objective of getting unemployment to start falling by the end of the year, according to the Wall Street Journal.
Earlier this month, the European Commission warned that France would enter recession this year and said the eurozone's economy would shrink by 0.4%. The commission also forecast a rise in the deficit of 3.9% of GDP, much higher than the acceptable EU deficit target of 3%
The most explicit of warning signs may have come two weeks ago when the European Central Bank cut its key interest rate from 0.75% to 0.5%, a clear indication of a deepening crisis, with no improvement on the horizon.
According to a Reuters poll of economists, there will be no strong recovery until at least 2015.
A near miss for Germany, but not the Netherlands

The eurozone's strongest economy, Germany, also showed some sluggish signs of growth. GDP grew by just 0.1% in the first quarter, far less than 0.3% expected by economists, showing sluggish signs of growth.

The German office of statistics had previously reported a 0.6 percent contraction, but later revised that figure to the standing 0.7 percent.
"The German economy is only slowly picking up steam," the Statistics Office said in a statement. "The extreme winter weather played a role in this weak growth."
Commerzbank today lowered its German 2013 growth forecast to 0.2 percent from 0.5 percent, Bloomberg reported.
Growth may have been delayed in German due to a long winter, some experts think. The particularly cold winter delayed construction and business confidence.

Merkel's initiative to bring the Eurozone afloat seems to only be producing results in Germany, as the rest of Europe is drowning in stagnated economies and bad credit.
"The euro area is a drag on the economy and certainly a handicap for German companies," Andreas Scheuele, an economist at Dekabank in Frankfurt, told Bloomberg.

The Netherlands, which entered recession three months ago, also showed contraction, with GDP falling by 0.1% in the first quarter of this year. Once one of the strongest-looking members of the eurozone, the Netherlands suffers from rising unemployment and the housing market bubble having burst.
Paris-Berlin rapport
The new French recession could further complicate the strained relationship between France and Germany, pro-growth and pro-austerity, respectively.
On May 6th, Finance Minister Pierre Moscovici said French austerity measures are at an end, instead opting for growth.
"We've been pleading for a growth policy for a year. Austerity on its own impedes growth."
President Hollande and France have been tiptoeing around Germany's call for austerity, stirring a 'friendly tension' instead of direct opposition to Chancellor Merkel's agenda. Hollande has not continued the legacy of 'Merkozy', a warm and public alliance between the German Chancellor and his predecessor, Nicolas Sarkozy.
France is in a difficult position: either continue its power alliance with Germany and unpopular support for austerity, or break with Germany and instead align itself with Europe's troubled 'south' – Italy and Spain.

Wednesday's sobering results technically align France in camp 'B', but it will remains to be seen if the French Finance Ministry continues to tag-along with Merkel and friends.

You can share this story on social media: