Hollande anniversary marked by protests and record popularity slump
As Francois Hollande marks one year in office, he may go down in history for the sharpest popularity loss. His approval ratings have sunk to less than 25 per cent - the biggest fall for any French president in the past 50 years.
To express their discontent with Hollande's policies, tens of thousands of leftists marched through Paris on Sunday. Police put the number of leftwing rally participants at 30,000, while the organizers claim the crowd was six times that figure.
A major source of public anger is skyrocketing unemployment, the worst in years, with 3.2 million French now looking for work. And that's just one of the factors which contributed to Hollande's popularity plummet.
The French are dissatisfied with the fact that the one who they hailed as a socialist hero could not deliver on many of his election promises.
"We are here to tell him, Mr. President, time is up and you need to start changing things," one protester, teacher Thibault Sans, told RT.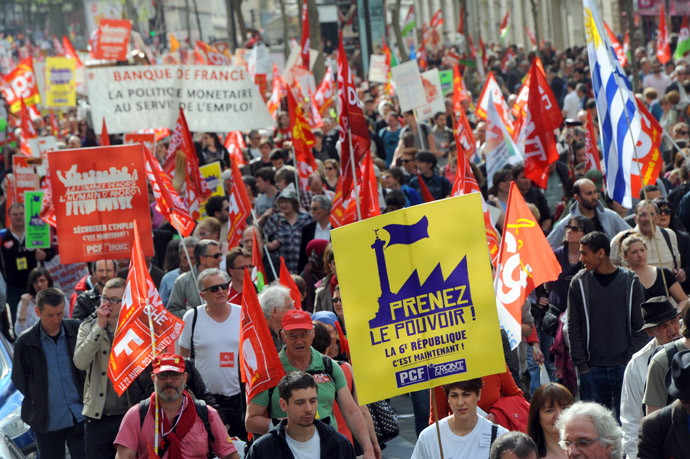 Among those broken election promises was the 75 per cent income tax on the super rich. France's Constitutional Court overruled it. While the very mention of it pushed French actor Gerard Depardieu to give up his French citizenship and accept a Russian passport.

Hollande's reputation was then hardest hit by news of his Budget Minister Jerome Cahuzac confessing of having 600,000 euro hidden in a Swiss bank account. The situation became further aggravated when it became known former Socialist Party treasurer Jean-Jacques Augier had money invested in offshore companies.
One thing Hollande supporters could be pleased with is his managing to keep promise on legalizing gay marriage. The fly in the ointment, though, is the law has sparked fierce confrontation and the topic is now being overshadowed by the country's economic woes.
"People are happy with gay marriage, but it doesn't feed our families, it doesn't give us food. There are realities that are good to say, but there are also priorities. The priority is employment. We need to eat!" one of the Paris protesters told RT.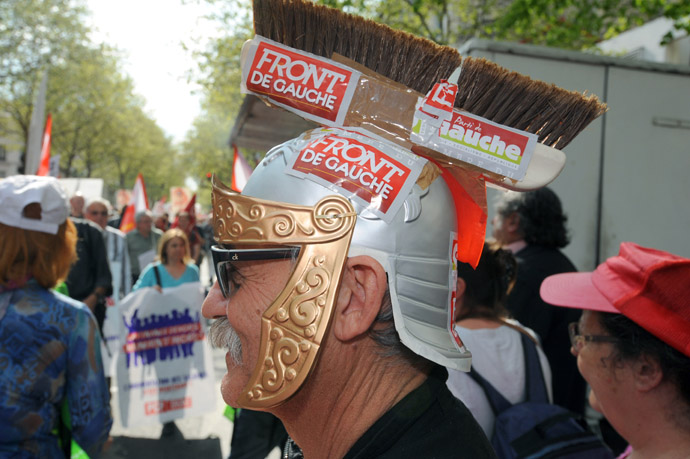 Experts believe Hollande should only blame himself for his sinking popularity - in his presidential bid he raised everybody's expectations to a level that was simply too high. Failure to deliver on promises eventually cost him popularity.
"It is obviously too easy to blame Francois Hollande. He has been elected a year ago only and obviously you cannot pretend that the new president immediately has achievements in terms of the economy. I just would like to get a president who is not making that much promises, which is keeping some key points, which is not going to explain that he has the magic recipe that no one has before," Bruno Cautres, Researcher, Sciences PO told RT.

The government is trying to save face by saying no one is abandoning the election promises.

"We've sown seeds but they will need time to bear fruit because the land had been abandoned a long time. Our reforms are geared towards growth and investment, not just austerity. They will bear fruit little by little," Prime Minister Jean-Marc Ayrault told TV channel TF1, as cited by Reuters.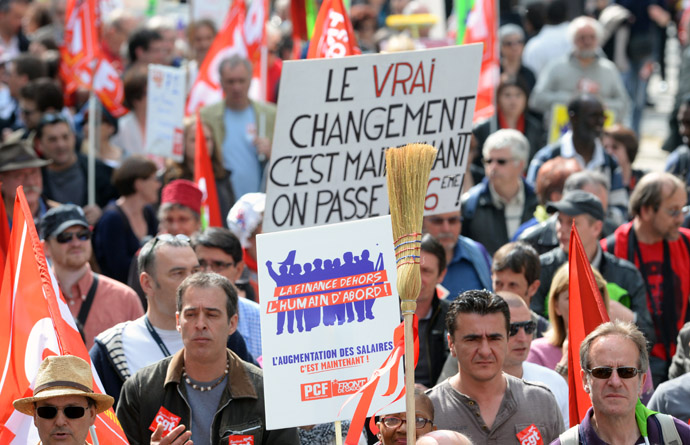 During his year in power Hollande saw his popularity surge only once – when France intervened in Mali. That intervention, though, was another breach of an election promise, according to Robert Harneis, a freelance reporter on French issues.

"What he promised was to refocus NATO on defensive measures and he's done more on the opposite by intervening in Mali and by his - initially at any rate - very aggressive stance on Syria and Iran. It's very noticeable that he's gone quiet on Syria and quiet on Mali, although the French have not withdrawn from Mali. I think that he thought that you know the traditional thing – if things are not going well at home you go for a bit of a stir abroad. That distracts attention and you look good, you look presidential," Harneis told RT. 

The effect of Mali intervention on Hollande's popularity was however not lasting. Now with the French economy wallowing in the recession mire, the country's population can hardly be distracted from internal issues.

For more on protests in France watch RT's Tesa Arcilla's report from Paris.
You can share this story on social media: