​EIB stops work in Ukraine as violence escalates across the country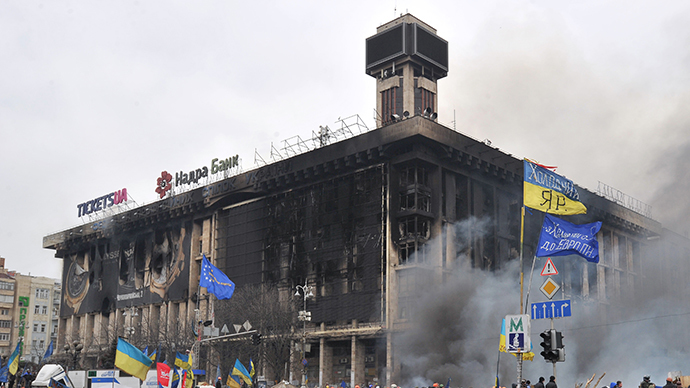 The European Investment Bank (EIB) has frozen its activities in Ukraine, after the renewed wave of violence in Kiev left 26 people dead.
"For the time being the situation is so severe that it would be politically the wrong signal, but also irresponsible vis-a-vis the people we asked to do the job, to do active business in Ukraine," Reuters quotes Werner Hoyer, the EIB President, who said the Ukraine violence is the worst since the former Soviet republic gained independence.
At least 26 people have been killed in Kiev as the Ukrainian capital plunges back into chaos. Rioters have attacked police, seized buildings, torched vehicles, and set up burning tire barricades. Nine policemen are among the dead, all of whom died from gunshot wounds.
Follow RT's LIVE UPDATES
The $1 billion worth government bond that matures in June reached an all-time high of 27.99 percent, hopping 5.06 percentage points during the afternoon. The hryvnia lost 1 percent against the US dollar to 9.0 hitting a 5-year low. The main Ukrainian Equities Index UX is consequently falling for the second day, losing 4.2 percent.
Even "brave heart" investors are getting out of assets of Europe's riskiest borrower, after President Viktor Yanukovich told law enforcement to use "all means" necessary to restore order.
The violence against protestors in Ukraine came in for harsh criticisms from European countries with Poland, France and Germany, urging sanctions against Ukrainian officials.
"The violent escalation of the political standoff brings nothing good to external debt, especially in the short term," Vladimir Osakovskiy, a Moscow-based economist at Bank of America Corp, told Reuters. "In the absence of clarity in politics in the next few months, we see escalating risks for Ukraine to service its debt."
Ukraine has $17 billion of liabilities, excluding interest, due to be repaid through the end of 2015, a record current-account deficit and foreign reserves at the lowest level since 2006, according to Bloomberg data.
Russian Finance Minister Anton Siluanov this week promised, Moscow will provide a second bailout tranche worth $2 billion to Ukraine as part of the $15 billion loan programme, after several weeks of stalled payments to Kiev.
Earlier this month the Fitch Rating agency downgraded Ukrainian debt from B to a pre–default level CCC, referring to financial instability.
Rioting in Kiev renewed on February 18 after a break of several weeks. Mass protests began in November after the government decided not to sign an association agreement with EU. Since then the political crisis in Ukraine has remained unresolved.
You can share this story on social media: