​Ukraine approves further $2 billion Eurobond issue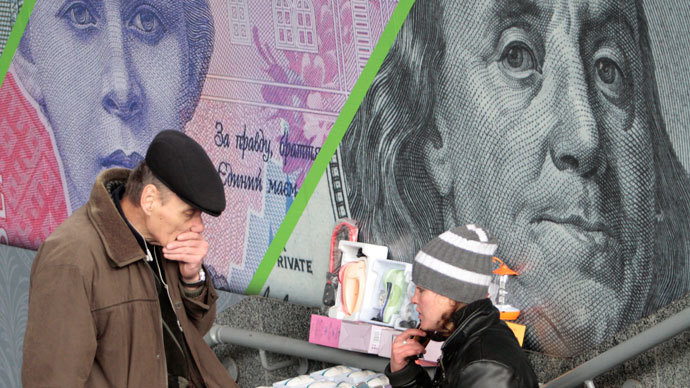 Ukraine says it will issue another $2 billion worth of government bonds to Russia, with the same conditions as the previous $3 billion bond sale in December. It is seen as an attempt to calm investors while there is violence on the streets of Kiev.
Kiev has decided to "make an additional bond issue of foreign government bonds in 2014 worth no more than $2 billion in accordance with the terms approved by the Cabinet of Ministers of Ukraine of 18 December 2013," says the Ukrainian cabinet website.
The First Deputy Minister of Finance Anatoly Myarkovsky said last week that Ukraine would place the debt by the end of January, according to Forbes.
The announcement comes at a time when the Ukrainian capital has been gripped by weeks of violent anti-government protests, which has driven the country into a political crisis. People took to the streets of Kiev to protest the country's decision to shelve trade cooperation with Europe.
Analysts agree the bond sale by Ukraine is seeking to calm investors and ensure the bailout to cover its external $8 billion debt repayment follows the agreed plan.
"This is a kind of verbal intervention to partially or completely calm people," Reuters quotes Oleksandr Valchishen of InvestCapital Ukraine. This is "to appease business and people who could move a lot of money, and put pressure on the hryvnia."
In mid - December 2013 Russia agreed to grant Ukraine a $15 billion loan and a 33 percent gas discount, after Kiev stepped away from a cooperation with the EU.
At the end of last year Russia bought the first bonds worth $3 billion dollars at 5 percent interest. As part of the agreement Moscow will use $5 billion it holds in the form of a Special Drawing Rights (SDR), with another $10 billion coming from the National Welfare Fund, Russian Finance Minister Anton Siluanov explained.
While the ongoing unrest in Ukraine has made many wonder whether Russia will provide the promised $15 billion timely and in full, Olena Belan, of Dragon Capital told Reuters that "Russia is continuing to support Ukraine because this was the agreement."
"It's not the Finance Ministry's decision. It is the Kremlin's decision," showing that the bailout is as much as political decision then a financial move according to a Reuters source.
Since early December, the hryvnia has lost about 3 percent against the dollar.
The support from Russia has a strategic influence on the Ukrainian economy, as Chris Weafer, a senior partner at Moscow-based consulting firm, Macro Advisory told RT last week. If Russia delivers the promised $15 billion in full, then there is no default risk and bond yields should remain relatively stable. However, "if the political situation worsens and the government loses control, then the Russia payments could be delayed until there is clarity and stability. In that case, the default risk would increase," Weafer concluded.
You can share this story on social media: