UK and China agree multibillion nuclear cooperation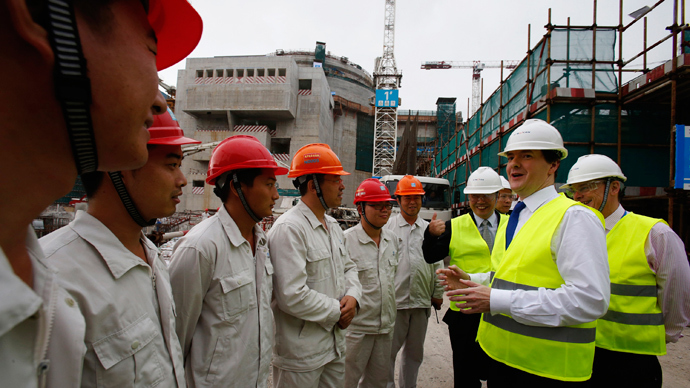 British Chancellor George Osborne says the UK will let Chinese investors into its nuclear market, offering the potential to grab a 100 percent stake. The first 14-billion-pound deal to construct a plant in the UK may be announced as early as next week.
The nuclear agreement between China and UK is an indicator of both the openness of the British market and a boon to the taxpayer, Mr Osborne said on Thursday, the last day of his week-long trip to China.
"Today is another demonstration of the next big step in the relationship between Britain and China, the world's oldest civil nuclear power and the world's fastest growing civil nuclear power," Mr. Osborne said after his visit to the Taishan nuclear power station on the coast near Hong Kong.
Taishan is a joint venture between French energy company EDF and the China General Nuclear Power Company. The French firm in turn is at the center of UK hopes to develop new British nuclear capacity.
"It is an important potential part of the government's plan for developing the next generation of nuclear power in Britain. It means the potential of more investment and jobs in Britain, and lower long-term energy costs for consumers," the Telegraph quotes Osborne.
Negotiations to jointly construct the 14 billion pounds Hinkley Point plant in Somerset have reached a critical stage, although the venture doesn't come under the new investment deal. Last weekend UK Energy Secretary Ed Davey said the Government was "extremely close" to finally agreeing the terms for the game plan to construct twin nuclear plants at Hinkley Point. The deal is expected to be officially announced as early as next Monday.
It's not the first example of business cooperation between the two countries. Recently China invested 800 million in the first airport city project in Manchester, and UK has agreed to reform visa applications for Chinese residents.

You can share this story on social media: