Market Buzz: Early China gains to drive stocks
Published time: 26 Aug, 2013 06:21
Edited time: 26 Aug, 2013 06:45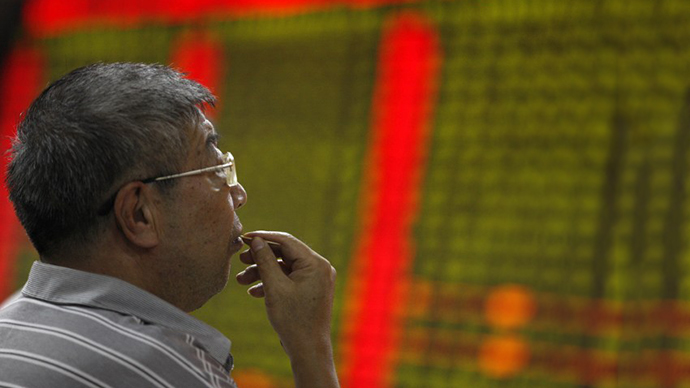 Markets continue their upward trajectory, and look to harness gains already made on Asian floors.
"Russian stocks will start in the 'green zone', following other dynamics from abroad," Ekaterina Kondrashov, an analyst at Investcafe, said.

Russian equities opened positive, and may gain on slightly higher oil prices. The MICEX finished Friday session up 0.14 percent at 1,395.10 and the dollar-based RTS gained 0.34 percent to 1335.57.

Rosneft, the largest listed crude oil company gained 0.28 percent, and Gazprom, Russia's largest natural gas producer, dropped 0.55 percent.

Oil prices have risen in anticipation that China will officially overcome the US as the world's largest importer of crude, according to a Wood Mackenzie report due later this week. Currently, the US is the world's biggest oil customer, and accounts for nearly 22 percent of total oil demand.

WTI crude futures climbed 0.44 percent to $106.89 per barrel and Brent rose to $111.23 a barrel.

Asian stocks have opened high, Chinese stocks snapping their three-day loss. If trading remains high, positive sentiment will translate into European and American markets as they open. The Hong Kong Hang Seng Index rose 0.87 percent, and the Shanghai Composite added 1.7 percent. Japan's Nikkei slid 0.20 percent.  

European equities struggled Friday, but pulled through into positive territory by market close. Amsterdam's Euro Stoxx 50 gained 0.49 percent, Germany's DAX increased 0.23 percent, and France's CAC 40 rose 0.25 percent.

UK floors will be closed for a bank holiday.

US equities gained, led by the NASDAQ's Microsoft stock, which soared following the news CEO Steven Ballmer is stepping down within the year. This was just one day after a computer-glitch that shut down NASDAQ trading for over three-hours on Thursday.

At the close of US trading, the Dow Jones Industrial Average increased 0.31 percent, the S&P500 climbed 0.39 percent, and the NASDAQ rose 0.52 percent.