Frack on: Total bets $47 mln on UK shale revolution
Total will become the first global oil major to bet on the UK's home-grown shale revolution with a $47 million investment. Banned in a lot of Europe, hydrocarbon drilling could reduce Britain's energy concerns.
The French company is upgrading its $2 billion-a-year investment portfolio in Britain, Europe's largest gas consumer. Total predicts it will be the country's largest oil and gas producer by 2015.
The French energy company is acquiring a 40 per cent stake in two exploration licenses in eastern England and will become a major shareholder in areas held by Dart Energy Ltd, the Paris-based group said Tuesday in a statement. The search for hydrocarbons will be operated by Igas Energy Plc, which has a 14.5 percent stake in the permits.
Spanning 250 sq. km., the new zones are located in Lincolnshire, England, which is believed to have rich natural gas reserves.
"This opportunity is an important milestone for Total E&P UK and opens a new chapter for the subsidiary in a promising onshore play," Patrice de Vivies, Senior Vice President for Total Northern Europe, said in a statement Monday.
Total has had a presence in the UK since 1962, and in 2013, produced 105,000 barrels of oil per day, on average. More than 90 percent of the company's production is sourced from fields in the Alwyn, and Elgin/Franklin zones in the North Sea.
This adds to Total's already heavy involvement in shale gas projects in the United States, Argentina, Australia, China, Poland, and Denmark.
Combined with other renewable and nuclear projects, Britain hopes developing its shale energy sector will help it become less import-dependent and hedge against blackout risks.
A June study from the British Geological Survey estimated that 1.3 quadrillion cubic feet of natural gas lie trapped in shale rock beneath northern England, which is far more than current proven UK conventional gas reserves, and would be enough to meet demand for 50 years.
"All out for shale"
On Monday British Prime Minister David Cameron announced local communities who participate in shale development will receive millions of pounds in tax breaks. The PM said the UK was going "all out for shale".
The government has played a pivotal role in making shale gas exploration in Britain, the only country in Europe other than Poland, a reality. Record-high household energy prices make Cameron's Conservative party politically vulnerable at the next election.
According to industry regulator Ofgem, energy prices have soared 24 percent over the last 4 years. The average fuel bill covering both gas and electricity- is $2,125 (£1,315) per household.
British Chancellor George Osborne introduced a new tax scheme to lure foreign investors to kick-start Britain's shale gas industry, offering a 30 percent tax rate.
In its quest to emulate America's shale boom success, the government has heavily endorsed a home-grown British fracking revolution, helping lift drilling bans and promising local communities big payouts.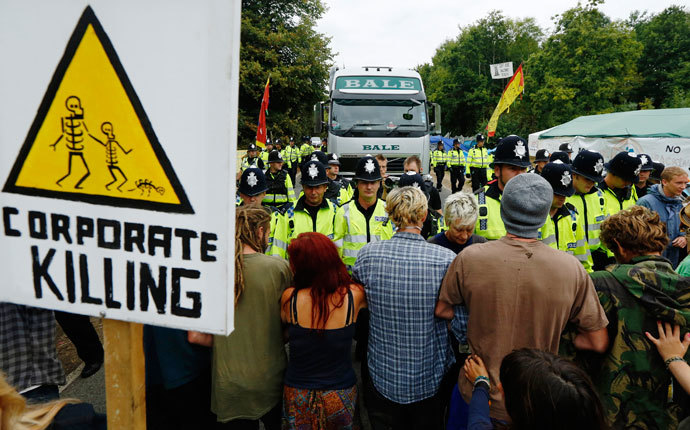 Environment protests
Surges of environmental protests have stalled exploration efforts across England.
The most recent protests were targeted against IGas, when demonstrators blocked access to a shale gas drilling site outside Manchester with a 1.5 ton wind turbine blade tied up with Christmas bow. A local activist group says the act is "symbolic" and the UK should be pursuing more environmentally-friendly energy sources.
Extraction by fracking involves pumping millions of gallons of water and chemicals into the ground, which creates excess hydro waste, which over time local residents worry will result in contamination of the water table.
US-based Cuadrilla Resources' plan to exploit shale gas reserves in the northern county of Lancashire were halted by protests by anti-fracking groups last summer. In 2011, Cuadrilla faced another setback after anti-fracking caused two minor earthquakes in the North of Great Britain.
US - inspired
Cameron expects the UK's shale gas potential to be about three-quarters of the US, which has an estimated 665 trillion cubic meters.
The shale industry boom in the US may add as much as $690 billion to GDP and create 1.7 million jobs by 2020, according to a study by McKinsey and Co. The oil boom has boosted domestic employment, company profits, and GDP in the US.
The US shale gas boom, and the energy independence it has brought, is something Cameron hopes to replicate. He said the US has embraced fracking because they see the direct financial benefit in energy prices.
The use of fracking has also come under fire in the US and has been connected to the contamination of water supplies and increased seismic activity.
The USA is roughly 40 times the size of the UK, and much of the 'shale-revolution' isn't in the backyards of communities - fracking is in remote wells in North Dakota, Kansas, and Oklahoma.
You can share this story on social media: