Kill the bill: Swiss parliament stalls banking secrecy bill
The legislation to disclose client names and data to resolve an ongoing tax-evasion spat between Switzerland and the US, was met with sharp critique by the lower house of parliament in Bern, who halted the vote.
The legislation, which has been dubbed by some Swiss media outlets as 'American dictate', is a strong demand by the US in a step for Switzerland to end their banking secrecy regime and bring transparency to their shady practices.

The accord, if enacted into law by Swiss parliament, aims to better track tax evasion in the alpine nation. Last week, Finance Minister Eveline Widmer-Schlumpt told reporters that her cabinet had approved the bill.
The Swiss news agency, ATS, reported 90 votes were in favor, and 100 opposed to debate the new law, which is expected to be decided upon during the summer parliament session, which began on Monday and will come to a close on June 21.
Before voting, members from various political parties voiced concerns over the details of the deal to hand over sensitive data to Washington.
A committee, supported by elected members of the Swiss People's Party, the Christian Democrats and the Ticino League, have until December 4th 2014 to collect 100,000 signatures to put the proposal to a national vote.
On Tuesday, the right-wing Swiss People's Party launched a campaign to kill the bill and said the package was too 'vague' and could create trouble for Swiss bankers.
The bill is vague because Washington and Bern are keeping mum about the details and conditions of the deal, and plan to keep quiet until after the Parliament approves it. Once approved, Parliament will not be able to amend the accord.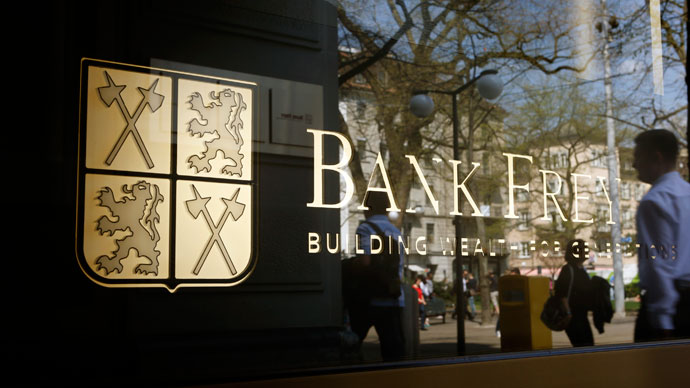 Swiss Finance Minister Eveline Widmer-Schlumpf  last week said that U.S. authorities had proposed a "unilateral offer, one that we couldn't negotiate".
Following a public scandal in France, bank secrecy was written into Swiss law in 1934. It has served as a financial safe haven for funds from all corners of the world, and its tight lipped policy helped it build its $2 trillion financial industry.
The US pressure mounted in 2009, when Switzerland's biggest lender, UBS, admitted to helping 52,000 American clients evade taxes. The bank narrowly escaped prosecution in exchange for handing over 5,000 client names and paying a $780 million fine.

In January Switzerland's oldest private bank, Wegelin & Co, said it would close down for good after over 250 years of service, following its guilty plea to charges of helping prosperous Americans hide more than $1.2 billion from the Internal Revenue Service through secret accounts.
A managing partner at the bank, Otto Bruderer, confirmed in court that "from about 2002 through to about 2010, Wegelin agreed with certain US taxpayers to evade the US tax obligations of these US taxpayer clients, who filed false tax returns with the IRS."
You can share this story on social media: