Spain braces to save troubled Bankia lender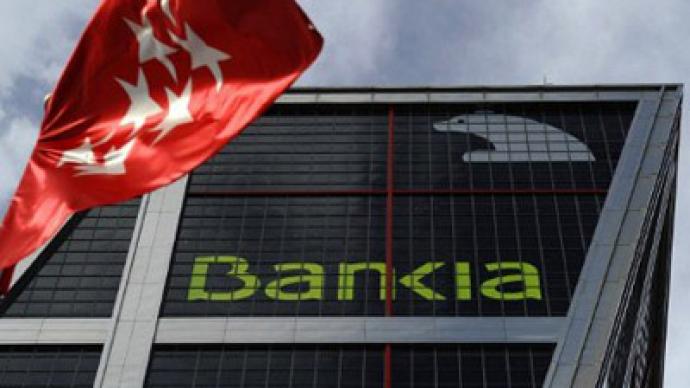 Spain has decided to partly nationalize the country's third largest lender - Bankia – and is preparing to pour public funds in to support the troubled banking group.
The Bank of Spain will take control of Bankia's parent company BFA trough converting into equity a 4.5 billion euro loan it had previously given the group. "The events of recent weeks and the growing uncertainty over the institution's future have advised further action, with the provision of public funds being considered to expedite and increase the cleanup," the Central Bank said in its statement.The move came after the Bank of Spain considered BFA's restructuring plan, which requires a loan of 4.5 billion euros given to BFA by the Spanish bank-restructuring fund to be converted into shares.With the deal completed, Spain will get a 45% indirect stake in the bank, which holds more than 30 billion euro of bad loans, mostly through the country's real-estate developers. Bankia has about 38 billion euro of real estate assets on its books, more than any other bank in the country.Earlier Bankia Chairman Rodrigo Rato announced he would step down, to be replaced by Jose Ignacio Goirigolzarri, a former second-in-command at Banco Bilbao Vizcaya Argentaria (BBVA). The Bank of Spain has already required the new management of Bankia to present a strengthened restructuring plan as soon as possible. Meanwhile the shares of Bankia continue to decline on Thursday, giving up 2.25% by midday after they dropped 5.8% Wednesday on reports of the partial nationalization.Bankia was created from a merger of seven savings banks as part of the restructuring of Spain's financial sector. Currently Spanish authorities led by Prime Minister Mariano Rajoy are busy cleaning up the country's banking, as worries around probable hidden losses of Spanish banks pushed up the government's borrowing costs.
You can share this story on social media: