Spain rallies against healthcare and education cuts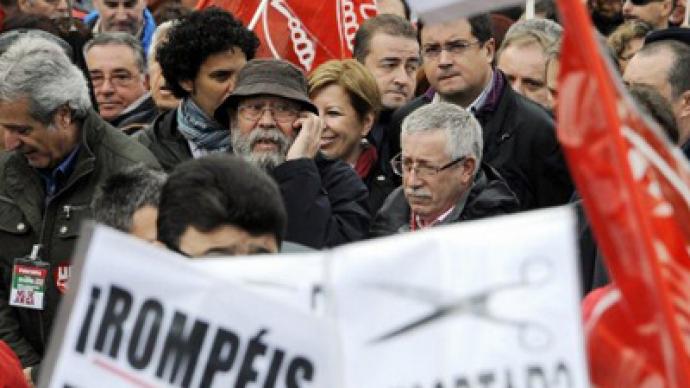 Tens of thousands of Spaniards streamed into the streets nationwide Sunday to slam Madrid's austerity program, which will take a $13 billion bite out of the country's education and healthcare budgets.
­"It's a crime to cut healthcare!" read numerous banners across 55 cities in Spain. Many placards simply stated "No" and pictured scissors symbolizing the spending reductions. A new round of belt-tightening reforms approved on April 10 is set to scrap free medicine for pensioners and charge students higher fees. Prime Minister Mariano Rajoy's cabinet is seeking to revitalize the struggling economy with $36 billion (€27 billion) in savings, with a further $13 billion (€10 billion) to be made in healthcare and education spending."They're pushing us to the point of asphyxiation," a protester told Agence France-Presse."Cuts in healthcare and education, that's the last straw for us, the working class," said Domingo Zamora, a 60-year-old civil servant in Madrid. "Without that, what's left? We don't even have work." "I can't find any work and my parents are suffering because both of them are working in the public health sector. Whatever they've obtained in over thirty years of struggle, Rajoy destroyed in a month," said Alba Sanchez, a journalism graduate.Spain's two biggest unions, the CCOO and the UGT, put the turnout in Madrid at 40,000 with at least as many in other parts of the country. This predictably contrasted with police estimates; while unions gave a figure of 4,000 protesters gathered in Barcelona, police counted only 700. A new demonstration was called for May 1, Labor Day. Meanwhile, unemployment in Spain has hit a Eurozone high of 24.4 percent – this means 5.64 million people are out of work in the country. Over half of Spaniards under 25 cannot get a job. The nation is losing patience every day, adding to the woes of Rajoy's government, which is struggling to reduce the country's deficit from 8.5 per cent to 5.3 per cent of gross domestic product by the end of this year. New EU rules require the national deficit remain below 3 per cent – a 2013 target for the five-month-old cabinet. But as Spain slides into its second recession in three years, concerns are high that this target will not be reached and the country will be forced to seek financial rescue as Greece, Ireland and Portugal have done.
You can share this story on social media: