Russia's trade with Asia-Pacific region to be more than with EU in 10 years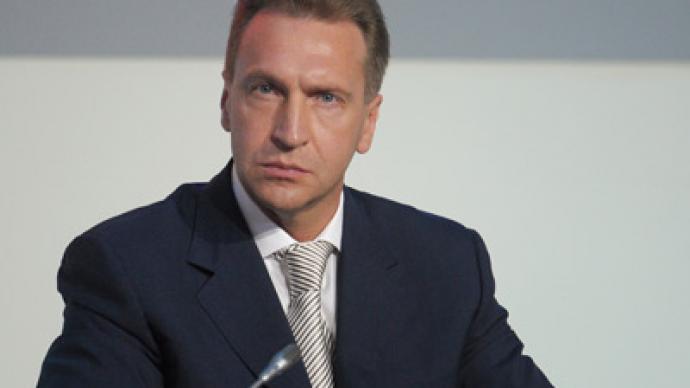 Russian trade with the Asia-Pacific countries is likely to surpass the trade volume with the European Union in the coming five to ten years, First Deputy Prime Minister Igor Shuvalov forecast at the Asia-Pacific Economic Cooperation summit in Vladivostok.
Shuvalov said Russia should energetically accelerate integration and cooperation with the Asia-Pacific region as it continues broadening traditional economic ties with the European Union and within the Customs Union."We would like to make this direction strong enough in the coming five to ten years to expand trade with this region even more than with Europe," Shuvalov told businessmen participating in the forum, adding  that  more  than  half  of  Russia's  trade  is orientated to the EU.The EU is Russia's largest trading partner by far with the EU accounting for about 50% of all foreign Russian trade. In 2011 The EU exported €108 billion of goods to Russia and Russia exported €198 billion to the EU. 68% of Russian exports to the EU are accounted for by energy and fuel supplies. In the Asia-Pacific region, China is Russia's top trade partner with the volume of trade not exceeding 10% of total trade turnover. Japan is second, accounting for roughly 5% of total foreign trade volume.Shuvalov pledged that the Russian government and President "will give all possible support to integration processes, including multilateral within the World Trade Organization, as well as bilateral, and engage in talks on the formation of free trade zones". Russia is already in talks with New Zealand and Vietnam, and is considering some other offers, he added. Shuvalov said that Russia, Kazakhstan and Belarus will complete their economic integration by 2015 by forming a fully-fledged Eurasian economic union.In November 2011, Russia, Kazakhstan and Belarus launched a customs union as a first step towards forming a broader EU-type economic alliance of former Soviet states. The Russian, Belarusian and Kazakh Presidents signed a declaration on Eurasian economic integration aimed at creating the Eurasian Economic Union, based on a Customs Union and common economic space among the three countries, and envisage scrapping of interstate customs tariffs. Thrashing out the policies of the Customs Union by the three countries has only been completed within the past few months, finally creating a free trade area with a common external tariff."We succeeded in setting up the Customs Union together with our CIS partners, Kazakhstan and Belarus, which turned out to be quite challenging too, as we aimed to create an organization with the highest level of integration in the post-Soviet space. Framework documents were signed in 2009, signifying the launch of the project. I can say that the 2012 Customs Union is much more than that. There are no customs borders within the union anymore. We've established a single customs zone and are now proceeding on to the next stage of integration, which is the Eurasian Economic Union", Shuvalov said.Russian President Vladimir Putin confirmed that Russia will actively promote collaboration between its economic union with Kazakhstan and Belarus and the Asia-Pacific Economic Cooperation (APEC) bloc.
You can share this story on social media: