The Eleven Orders of Putin: Earmarks for Russia's development in the next six years
Published time: 8 May, 2012 00:36
Edited time: 8 May, 2012 12:46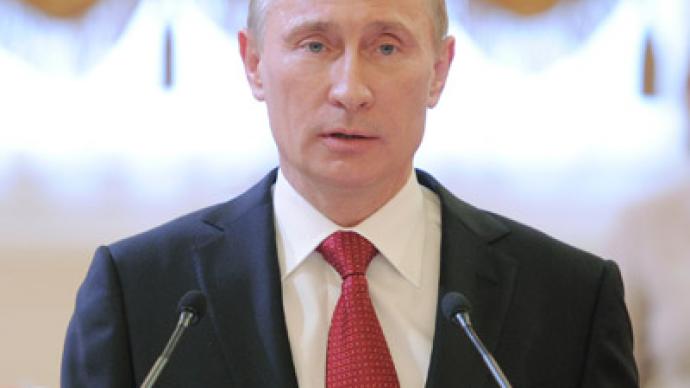 President Vladimir Putin has announced 11 Executive Orders within hours of his inauguration. These orders set Russia's strategic aims in foreign, domestic, social and military policy.
Two Executive Orders (EOs) outline what is to come in the military sphere. A new system of strategic analysis and planning is to be implemented in order to counter threats to national security. Steps will include modernizing weaponry, improving naval communication and intelligence, especially in the Arctic and the Pacific, as well as devoting extra attention to Russia's nuclear and space defense forces. 

Putin hopes to expand the role of auctions and open competition to find defense contractors. The number of contract soldiers is set to increase by 50,000 officers per year.

Putin has also set the goal of moving Russia up by 100 places on the World Bank's "Ease of Doing Business" list from its current 120th spot to the coveted 20th by 2018.
Another Executive Order details Russia's main foreign policy goals
Putin stressed the need to secure Russia's national interests on the basis of pragmatism and openness as a new, polycentric model of international relations is forged. This means ensuring the central role of the United Nations, as well as bolstering cooperation within the framework of BRICS, the G20, the G8, and the Shanghai Cooperation Organization.

Russia's key partners for cooperation will be countries and organizations in the CIS. With this in mind, Putin wants to boost the efficacy of the Union State with Belarus, integration between Europe and Asia through the Customs Union and the Common Economic Space, and hopes to establish the Eurasian Economic Community by January 1, 2015.

Putin stressed the need to conduct a foreign policy that would ensure stability in international relations and would be based on the principles of non-interference in the internal affairs of other countries, as well as on mutual respect. This means that Russia will promote only political and diplomatic approaches to resolving regional conflicts.

A major portion of the foreign policy EO is devoted to Russia's relations with the United States. Putin underscored that Russia would need to defend its interests as the United States plans to create a global AMD system.
More jobs, better salaries for doctors and teachers, higher life expectancy
Most of the Executive Orders set earmarks for internal, social and economic agendas. This includes creating 25 million jobs of high efficiency by 2020, increasing the level of investment by up to 25 per cent of the GDP by 2015, and improving the business climate in the country.

Putin also stressed the importance of expanding the role of science and innovative technology, which, he hopes, will increase their share of GDP by a third by 2018.

However, before that, in 2013, state programs to bolster Russia's aviation, space, medical and electronics industries, and its agricultural market are scheduled for approval.
Putin's order also prescribes a salary rise for all Russians, especially for teachers and doctors. Academics and scientists are also expected to get a boost from the state with up to 25 billion rubles to be spent on science by 2018.
Another order targets ways to improve the administration system and sets forth a novel way that would allow citizens to introduce proposals for the government via the Internet. The concept, which Putin hopes the government will approve later this year, stipulates that a proposal that garners over 100,000 positive reviews would be mandatory for deliberation by the government, as well as experts from the Duma, the Federation Council and business representatives.
Most of the president's Executive Orders are set to be implemented by various branches of the Russian government, which is expected to be helmed by former President Dmitry Medvedev. Putin wished Medvedev luck in implementing the "complex and very responsible" goals set by the orders.
The Executive Orders largely mirrored Vladimir Putin's pre-election articles, in which he also promised to boost economic development, promote Russia's foreign policy interests and improve the social standing of Russian citizens.