Severstal posts 1Q 2009 Net Loss of $643.9 million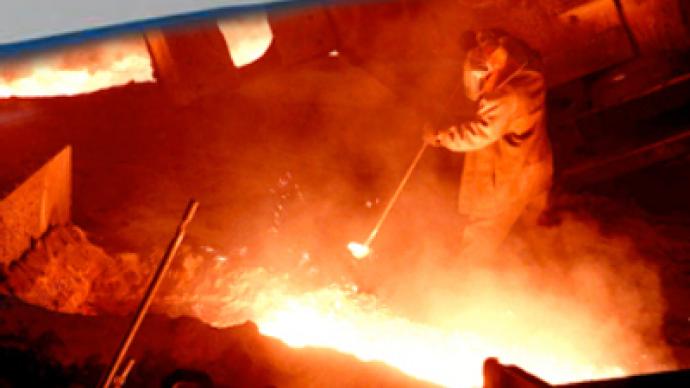 Russian steelmaker, Severstal, has posted a 1Q 2009 Net Loss attributable to shareholders of $643.9 million under IFRS.
The bottom line was a marked turnaround from the $470 million Net Profit posted for 1Q 2008, but was a 46% improvement on the $1.2 billion Net Loss posted for 4Q 2008. 1Q 2009 EBITDA slumped to negative $158 million, compared with 1Q 2008 EBITDA of $1.08 billion, and 4Q 2008 EBITDA of $298 million, as Revenues slumped 36% year on year, and 30% quarter on quarter, to $2.796 billion.
The company says the result reflects a further worsening of the trading environment for steelmakers globally, after the global economic downturn hammered the sector in 4Q 2008. 1Q saw prices for rolled products fall 33% and iron pellets by more than 50% with coking coal concentrate down a further 28% on 4Q 2008 prices. The Net result was further worsened by a $381 million pre tax foreign exchange loss.
Severstal says it is continuing to idle production capacity and reduce employee numbers, with strict control over capital expenditure. CEO, Alexey Mordashov, says the measures already adopted are delivering benefits but that conditions will continue to be difficult throughout the year.
"We continue to act decisively to reduce fixed costs and improve working capital management, with benefits already coming through in the first quarter. Although we have seen an increase in consumption from restocking in Q1, weak economic conditions continue to affect demand for our products. Despite current difficulties we are well-positioned to weather the challenging year ahead given our robust financial position and competitive cost structure."
The company noted that steel prices in its main markets were lower in March and April than in February, but that a pick up in long steel is likely in June or July. It added that the restructuring of its North American operations, including the recently announced idling of Severstal Wheeling should improve its financial position, but that further employee reductions in Europe are likely due to poor market conditions. On the upside it believes that Russian government infrastructure projects are likely to support Russian steel demand throughout the year, and that the Rouble devaluation has made Russian steel producers significantly more competitive globally and that Russian steelmaker are likely to outperform their international counterparts.
You can share this story on social media: